Tässä sitten kuva häälahjasta, jonka pistelin nuorelle parille. Kankaana 40ct pellava ja siltikin tuli ihan kiitettävän kokoinen. Kehyksen kanssa koko 70 cm x 50 cm, tai jotain sinne päin.
Tuossa keskellä on tietysti morsiamen ja sulhasen nimet, mutta otin ne nyt pois tuosta kuvasta. (Kuva on muutenkin aika huono, koska tunkivat tuon taulun liikkeessä sellofaaniin enkä sitten kotona enää ehtinyt sitä aukoa ja laitella uudelleen...)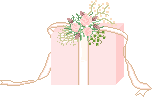 Here's the wedding gift I stitched for the young couple. I used 40ct linen and even then it's quite large. The size is approximately 70 cm x 50 cm with the frame, or something like that...
There are of course bride's and groom's names in the middle. (I took them off the photo.) The photo itself is a bit fuzzy because this was wrapped in clear plastic and I just didn't have time to unwrap it and wrap it all over again...

Onnittelut vielä kerran molemmille!!!