Ompelukone on saanut kyytiä ennen systerin häitä (joista selvittiin (kait?) kunnialla viime viikonloppuna).

Mm. tällaisten ompelua on ollut ohjelmassa. Kyllä, ne ovat juuri sellaiset huikean järkyttävät mummopökät, joihin on ommeltu pitsiä koristeeksi. ;D Tulivat yhteen ohjelmaan.

***

My sewing machine has been quite busy before my sis' wedding (that was last weekend btw).
I've sewn these. ;D The hideous looking grandma pants were for one "game". (It's very common that there are all kinds of entertainment at the wedding over here. Games, competitions etc. etc.)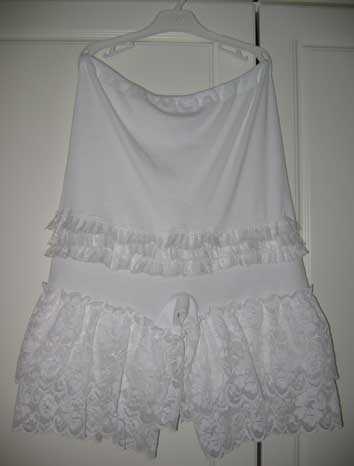 Ja seuraavaksi sormustyyny, jonka ompelin. Ompelin tyynyyn myös helmiä koristeeksi.
Häät olivat aika vaaleanpunaiset, kuten kuvasta voi arvata. :)

***
And here's the ring pillow I sewed. I also added some beads for the lace.

The theme colour for the wedding was pink as you can probably guess. :)