Tässä pienoinen välipalapistely, yhden yli harrastin. :) Valmiin työn koko n. 3 x 7 cm. Malli on osa Tralalan mallia "Dans mon jardin" (kuva alla), hitusen verran tuunailin.
***
Here's something tiny I stitched, over one. :) The stithed area is approximately 3 x 7 cm. The design is part of the Tralala's chart "Dans mon jardin" (shown below), I changed it a bit though.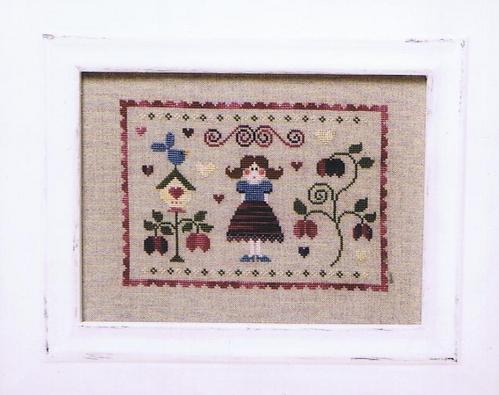 Huh huh. Vihdoin ja viimeinen olen saanut suurimman osan (+500) blogipäivityksistä vilkuiltua läpi. (En edes yritä sanoa, että "lukea" koska se olisi ollut aivan epätoivoinen urakka.) En ymmärrä miten noita päivityksiä on taas noin kertynyt... Ja koska olen ollut taas tosi surkea kommentoija, jätän tähän muutaman vilkuilun arvoisen linkin aivan upeista käsitöistä. Katsokaa ja kuolatkaa!!!
Kiitokset myös viimeaikaisille kommentoijille. :) Ihquja te olette. :)

***
Well, I'm finally almost done with browsing through the (+500) blog updates on my Google Reader. (I'm not even going to say "reading them" because that would have been a mission impossible for me.) And since I have been a really lousy commenter lately, I'll leave you with couple of links that are really worth looking for. So, enjoy (and drool over the gorgeous stitched pieces)!!!
Thanks for all the lovely comments lately. You're all so sweet! :)