Ollaan täällä vielä hengissä, vaikka en ole sitten Violariumin ristipistoviikonlopun alkamisen jälkeen juuri pihausta päästänyt tämän blogin puolella. Kotosalla ollaan sen jälkeen juhlittu mm. useampi päivä Toukan synttäreitä, meidän "vauva" täytti jo 3 vuotta, joten kiirettä on pitänyt! ;)

Ristipistoviikonlopun saldo jäi ehdottomasti plussan puolelle, vaikka fyysinen olo olikin viikonlopun jälkeen aika nuutunut. Meikäläisen saldo oli yksi lohjennut hammas ja käsivarsi mustelmilla, toisia pistelijöitä taidettiin vain säikytellä henkihieveriin. ;-D No ei mua oikeasti kukaan muksinut, hammas lohkesi ihan 1 mm paksua suklaata (!) syödessä ja käden paukautin makeasti oven kahvaan.
Enivei, meitä oli paikalla n. 20 naista ja voitte kuvitella, että räpätys ja naurunremakka kans sen mukainen. Ja vaikka ruokaa oli talon puolesta ihan ähkyyn asti, niin kuten kuvista huomaatte, niin kyllä meillä oli ihan "omatkin" eväät varalta.
***
YEAH, I survived Violarium's stitching weekend! We have been celebrating our DS's 3rd birthday this weekend so I have been quite busy and that's why I've kept quiet. ;)
I have to say that even though I felt quite exhausted after the stitching weekend I still felt really refreshed. My total damage was one chipped tooth and bruised arm, I think some other stitchers were only spooked to near death. ;) Ok, no one really punched me, I managed to chip my tooth while eating really soft chocolate (!) and I bumbed my arm to the door handle.
Anyway, there were total of 20 women there and you can only imagine the amount of chatter and laughter! Some of us were pretty well prepared even though the food was on the house.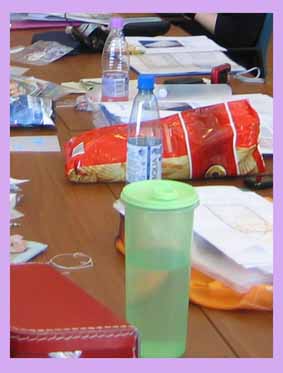 Työkalutkin olivat jotain aivan omaa luokkaansa. Ois voinut kyllä kuvitella, että täällä harrastettiin jotain aivan muuta kuin ristipistoja. ;)
***
The tools were also something else. You could have almost thought that we were doing something quite different than cross stitching. ;)