Blääh. Tylsää kun ei pysty näyttämään kuvia oikein mistään pistelyistä. Kaikki mitä olen viime aikoina pistellyt, ovat olleet enemmän tai vähemmän salaisuuksia ja lahjoja. Neljä on jo pistelty valmiiksi ja kaksi on vielä työn alla. TYYLSÄÄÄ.
No mä vilautan kuvan yhdestä työstä ja toivon samalla, että erään nimeltä mainitsemattoman bling-bling-pikkuprinsessan äiti pistää tässä vaiheessa netin kiinni. ;) Tää pikku balleriina ei ole vielä saanut silmiä päähän, mutta eiköhän kohta puoliin. ;-D

***

It's a bit boring when you can't show any photos of the pieces you have stitched lately. And believe me, I have been stitching quite a lot. I have actually finished four pieces and I'm still working on two others. But since everything has been more or less gifts, you won't see any photos yet.

OK, I'll show you a peek of something. Unfortunately this tiny ballerina hasn't received her eyes yet and she is still dancing blind. Hopefully she will receive her eyesight in couple of days... ;-D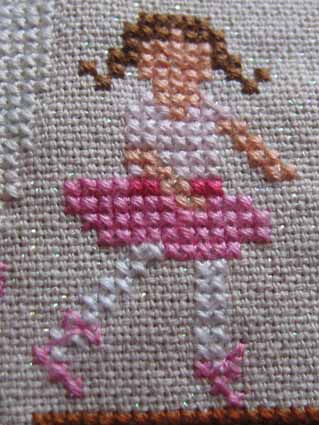 Nää mun blogipäivitykset tulevat jostain kumman syystä Googlen Readeriin näkyville joskus monen päivän viiveellä. Ootteko toiset Vuodatuksen (ja muut) käyttäjät huomanneet samaa???
***
My blog updates seem to appear on Google Reader sometimes days after publishing. Has anyone else noticed the same with their blogs???