Tässä mun viimeisin aloitus, Lizzie Katen uusinta mallistoa. Alla kuva, miltä tää tulee näyttämään valmiina.

Siis ihan oikeasti.

Minä

pistelen joulupistelyä

itselle

. Ei juma. Muutenkin nyt on ollut ihan omituinen Joulukuu. Meillä on ollut joulukuusi koristeltuna jo monta päivää (Haloo, Joulukuu on vasta alussa) ja kaikki joulukoristeet paikoillaan (Toistan: Haloo, Joulukuu on vasta alussa) ja kaiken lisäksi joulusiivous tehtynä, Toukan joulukalenterit ostettuna ajalleen jo ajaaaat sitten. Joululahjoja ei tartte juuri ostella, mutta nekin vähät on ostettu...


Jonkin sortin mielentilatutkimus on varmasti paikallaan. Ihan oikeasti tämä tulee semmoisen ihmisen suusta, joka ei ole viimeiseen kymmeneen vuoteen voinut sietää koko Joulunaikaa.

***

Here's my latest start, Lizzie Kate's Don't get your tinsel in a tangle. Below is a photo of what this will look like eventually...

There's just one thing wrong here. This is a

Christmas

design for

myself

. Honestly, this has been such a weird December. The Christmas tree has been decorated for couple of days already, all the Christmas decorations are out, all the necessary Christmas presents (not too many thankfully) have been bought etc. etc.

I'm pretty sure I have to go and have some kinds of tests done if I have gone out of my mind. I'm serious. I am a person who hasn't like Christmas a bit for the last 10 years...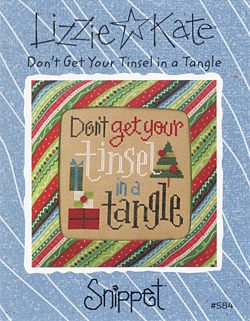 Kiitokset viime aikaisista kommenteista, joita onkin sadellut aika runsaasti. :)
Ehkä se stressin repiminen tästä blogin ylläpidosta on enemmän kirjoittajan itsensä päässä - on vaan niiiiin paljon asioita, joita tänne voisi laittaa, mutta niin vähän aikaa. Täytyy kyllä tunnustaa, että mä käytän ihan häikäilemättä hyväkseni tätä Vuodatuksen ajatustustoimintoa eli en todellakaan päivitä blogiani niin usein kuin voisi kuvitella. :) Mä yleensä kirjoitan useamman kirjoituksen kerralla ja ajastan niitä tulemaan blogiini tipoittain... ;-D Huijauksen makua, eikö vaan?
***
Thanks for the lovely comments I have received lately. They are always a joy to read - and I've also seen some new commentors amongst the "old" ones as well. Nice to meet you all, I have already visited all of your blogs!!! :-D

Maybe the stress I get updating this blog is all in my head - there are just so many things I would love to post about - and such a limited time unfortunately. Thank goodness there is a way to preset these posts and put them on a "timer" so to speak (so that they appear in the blog at a certain time in the future). I know it's a bit of a cheat but I'm sooo taking advantage of that feature. :) So no, I'm still not posting as often I would like to but atleast I haven't disappeared from the blogistania yet... ;)