Täällä ollaan vieläkin lauantaisen pikkujoulun jälkimainingeissa. Oli tarkoitus pitää "tietokonevapaa" ilta, mutta ihan pakko oli alkaa näyttämään kuvaa minkä kauniin joulukoristeen sain Oupsin jouluvaihdossa Hannalta. :)
Hanna on aika uusi oupsilainen ja täytyy kyllä nostaa hattua, että on uskaltautunut tällaisten räpätätien joukkoon tulla. Oupsilaisten joukko on kieltämättä muotoutunut jo aika tiiviiksi, joten ymmärrettävästi kynnys tulla uutena meidän umpihullujen sekaan voi olla aika korkea. ;-D
Jos en nyt ihan väärin muista, niin tämä oli Hannan ensimmäinen vaihto - ja hyvin meni (eikä ollut kyllä epäilystäkään sen puoleen). Tämä on todella kaunis malli! Tuo joulusukka on pistelty plastic canvasille ja siinä on yläosassa sellainen metallilanka, josta laitetaan roikkumaan. Kuten näette, niin koriste pääsi heti meidän joulukuuseen paketissa olleen sydämen ja suklaiden kanssa. (Ja ihme, suklaat ovat edelleen syömättä - edes Toukka ei ole hoksannut, että ne ovat suklaata!!!) Kiitos, Hanna, vielä kerran, tämä oli kyllä mieluinen!
***

Like I told you before we had our local cross stitch groups Christmas party last Saturday and OMG what a fun day we had! I stitched for about six hours and then I just had to give up. ;-D
I actually meant to have a computer free night tonight but I just had to come by and show you a photo of the wonderful Christmas ornament I received from Hanna in our Christmas swap.
Hanna is quite a new member in our group and I just have to give credit for her to have the guts to join our group. I mean, the ladies in our group have bonded pretttty tight and it can't be that easy for someone to come in as a newbie and join this group of crazy ladies. ;-D
If I remember correct this was Hanna's first exchange and as you can see she did very well. I really like this Christmas sock! It's stitched on a plastic canvas and there's a small metal hanger on the top. As you can see it endep up in our Christmas tree right away with other goodies. Thank you so much, Hanna, this was wonderful!!!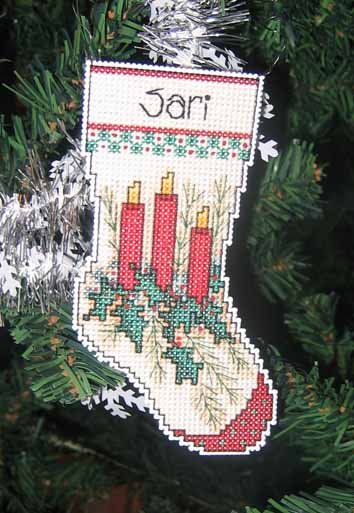 Tässä vielä yhteiskuvaa kaikista vaihdoista, eivätkö olekin upeita??? Isompia kuvia
Lennun
blogissa,
klikkaile
kuvia
vaikka
näistä
. :)
***

Here's the photo of all of the exchanges, aren't they just great? You can see some larger photos at Leena's blog or
you
can
just
click
here. :)