Kun tämä kirjoitus ilmestyy, niin täällä Oulun seudulla käy varmasti aikamoinen pulina. Arvaatte varmaan miksi? No silloin on OUPSIN ristipistomummojen pikkujoulut!!! JEEE!!!
Varmasti yksi parhaimpia hetkiä on se, kun pääsemme vaihtamaan jouluvaihdot ja ihastelemaan mitä kauniimpia pistelyitä... Oma parini on tuolla "hieman" kauempana asuva Oupsin "etäjäsen"
Ulla
ja koska olen oman vaihtoni postittanut hänelle (ja epäilenpä, että paketti on jo toisessa päässä avattu), niin uskallan laittaa myös kuvia näytille.
Malli on Heart in Handin
Winter fobs
ja tätä oli kyllä kiva pistellä. Itse asiassa pistelin tämän valmiiksi jo kauan sitten, mutta jostain kumman syystä viimeistely jäi taas viime tinkaan. Nuo ihanat lintunapit ovat itse asiassa Sinooperista ostettuja Tilda-askartelunappeja. Aika monissa noissa Tilda-napeissa (joita olen nähnyt) on ollut vain tarra takana eikä mitään muuta kiinnitysmenetelmää, mutta kun näin nämä puiset napit ja huomasin, että näissä on ihan oikeat napinreiät, niin pakkohan ne oli ostaa. :)
***
Can you guess where I am when this post is published? We are having a Christmas party with the local cross stitch group and you can bet that there's quite a lot of noise and laughing (and maybe some stitching) around! YIPPEE!!!
One of the best moments of our party will be the moment we reveal our Christmas swaps. I was hosting the exchange so I already know who is stitching to whom (ha ha, not telling you anything) and I am so sure that there will be loads of "oooooh"ing and "aaah"ing around. The stitched pieces I have seen from this group before have been amazing and I'm pretty sure this will be the case now too.
My partner in crime was Ulla and because unfortunately she won't be joining us for the party I have already mailed my exchange for her. And since I'm pretty sure she has already opened the mail I can show you this.
Here's what it looked like before finishing. The design is called
Winter fobs
by Heart in Hand and I really liked stitching this. The lovely birds are actually Tilda-birds, some of you "might" have already heard of Tilda???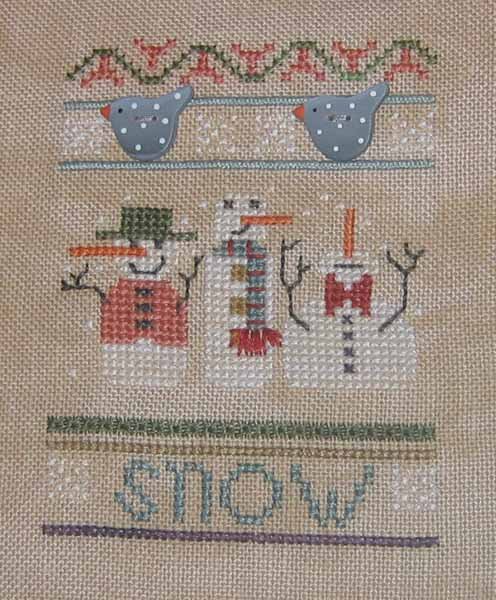 Tässä sitten viimeistelty tuote. En ole ikinäkuunapäivänä tehnyt needlerollia ja täytyypä muuten sanoa, että tämä oli HELPPO tehdä. Siis jokainen, joka vähääkään pelkää ompelukonetta (voi tän kyllä ommella käsinkin), niin tätä kannattaa ilman muuta kokeilla.

***


And here's the finished product. I've never ever finished needleroll before and I have to say to everyone who is afraid of the sewing machine (well you can sew this by hand too) that this was very easy to sew and finish! So don't be afraid!!!
Täytyy sanoa, että kävi pikkuinen mäihä tuon kankaan kanssa. Mä olin nimittäin aika kauhuissani etukäteen, että miten mä saan sen kankaan sileäksi sen jälkeen, kun olen kääntänyt tuon ommellun putkilon toisinpäin. MUTTA kuin vahingossa olin ottanut tähän kankaan (nimi oli "marbled" jotain), joka näyttää silitettynäkin ihan marmorikuvioiselta eli pääsin kuin koira pälkähästä. (Ulla ei sitten tiiraile kovin tarkkaan niitä ryppyjä siitä.) ;-D
En ole tajunnutkaan, että tuommoisia kankaita on olemassa. Siinä on nimittäin se taustapuoli ihan yksivärinen ja tuo "marbled" puoli niin kuin painettu kuvio. Hö.
***
I was quite lucky with my fabric choise this time. You know, I was so worried that after I have sewn this into the tube and I have to turn it inside out, the fabric would be really wrinkled. But (lucky me) I had chosen a fabric called "marbled" something and it really looks like marble! So you can't really see the wrinkles on it that good. ;-D
To be honest I didn't even know these kind of fabrics existed and I must have bought this buy accident or something. The other side looks like marble and the other is plain coloured.