Viime aikoina ei ole pahemmin ehtinyt polkkaamaan... Kaikkea muuta on muka ollut niin paljon.

Bent Creekin Plum Berry Sampler valmistui jo jokin aika sitten. Värit ovat tosiaan aika erilaiset kuin alkuperäisessä ja noita violetteja rivejäkin muutin, mutta tykkään tästä tosi paljon (ehkä juuri värinvaihdon vuoksi). Jonkin sortin ideakin on jo viimeistelystä, mutta makustelen sitä vielä... (Enkä toivottavasti unohda tätä laatikon pohjalle vuosikausiksi...)

Nuo valokuvat ovat sitten taas niitä, että ihan oikeasti tuo on pistelty pellavanväriselle kankaalle, mutta taas näyttää kangas harmaalta. Grrrrr....



It feels like I haven't been bloggin' lately that much... I must have had more important things to do, right?
I finished Bent Creek's Plum Berry Sampler a while ago. The violet rows and almost all of the colours are different than in the original chart and maybe that's the reason why I like this very much. I even have some kind of idea how to finish this, I just have to sort out some details before actually doing it. (Hopefully I will not forget this in my drawer for the next couple of years...)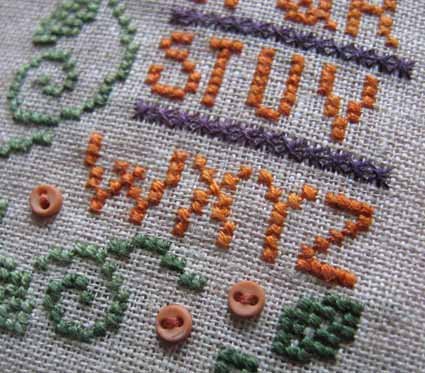 Aloitin myös uuden ristipistotyön lauantaina Tuulan luona Oupsin tapaamisessa. Oli mukava päivä, näitä vois olla vaikka tiheämminkin!!! :) Tää työ on (yllätys, yllätys) LHN:n Rose in morning. Kangasta piti pähkäillä monta viikkoa, koska tässä on ihan kaaaamaaalan hempeät lankojen värit. Saas nähdä mitä tulee.



I also started stitching a new piece in cross stitch meeting at Tuula's house the other day. We had such a lovely day, I only wish we had more days like that!!! :) This piece is (surprise, surprice) Rose in morning by LHN. It honestly took me couple of weeks just to decide what fabric to stitch this on, because the thread colours are sooooo fair in some parts. I'm a bit worried how this will turn out, hopefully ok.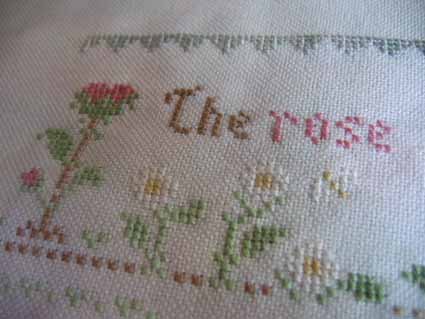 Syksy on tullut, jipijipi, saas nähdä tuleeko minkäänlaista ruskaa... :) Mun lempparivuodenaika! :)



The fall is here, yippee! My favorite season!!!