Varmaankin kaikki ovat jo nähneet Oupsilaisten tekemän synttäripeiton Lennulle, mutta laitanpa minäkin vielä näytille oman osuuteni. Lennu osasi
omassa blogissaan
kirjoittaa peitosta niin kauniisti, käykääpä vilkaisemassa. (

Rullaile alaspäin suomenkieliseen tekstiosioon.

) :)
Syy miksi Lennulle tällaista yleensä tehtiin oli se, että viime vuonna Lennu alkoi yhtäkkiä pistellä synttärilahjoja Oupsilaisille. Ihan noin vaan ilman mitään syytä, eikä halunnut mitään edes vastalahjaksi.
(Mulle Lennu pisteli viime vuonna
tämän pinkeepin
, muistatteko?)
Niinpä Jaana S sitten ehdotti, että muistettaisiin Lennua jotenkin porukalla hänen syntymäpäivänään ja no, kosto on suloinen. Ettäs tiedät. ;-D
Joka tapauksessa, tässä kissa jonka minä pistelin Lennun peittoon. Kiitokset myös Ritvalle, joka ompeli peiton itse värjäämistään kankaista. Ihana kun tämäkin juttu on vihdoinkin paljastunut, niin ei tartte ihan joka sanaa varoa, ettei paljasta mitään!!! :-D
***

I'm pretty sure everyone has already seen photos of the quilt we made for Leena, but I just thought I'd show the photo of the cat I stitched for it. Lennu wrote about the quilt so nicely in
her blog
, make sure you visit! :)
The reason why we stitched the quilt for her is that last year, for no reason what so ever she started stitching birthday gifts for the ladies in our local cross stitching group. She just wanted to brighten our day and wanted absolutely nothing back.
I received this lovely
pinkeep
from her on my birthday last year.
So, when Jaana S suggested that we should do something together for her birthday and what can I say? Well, the revenge is sweet. ;-D
Anyways, here's the cat I stitched and here's the quilt one more time. Cudos to Ritva who sewed this together with her hand dyed fabrics!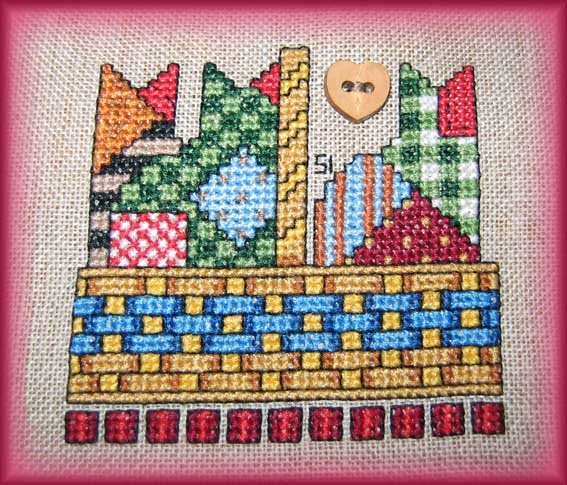 Design by Jeremiah Junction