Miksi antiikkimessuilla ei voi olla koskaan mitään käsityötarvikkeita myynnissä? Tai jos joskus hyvin harvoin on, niin ne maksaa monta sataa euroa? (Enkä tosiaankaan tarkoita mitään liinoja, joissa on ihan hirveän näköisiä kirjailuja.)
Ostin neppareita ja neuloja. Tuskin ovat kovin vanhoja, tarttuivat vaan matkaan. Sakset ovat viinirypälesakset, muistaakseni 1920-luvulta. Meillähän noita viinirypäleitä kasvaa, niin näitä todellakin tarvitaan. ;-D
***

Went to the local antiques fair last weekend. I can't understand why there are no good craft items available anywhere? Why is it? Am I looking for them in the wrong place? (And I'm not talking about the table linen with really ugly embroidery. Them you can find everywhere around here.)
I bought some press stud buttons and the 1920'ies grape scissors. You know that we've go so much grapes growing here almost-at-the-arctic-circle so that these will come really handy. ;-D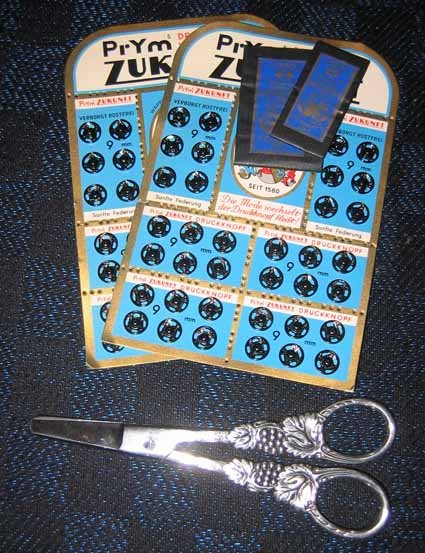 Tällaisia neppareita mulla on jo ennestäänkin. Ei kyllä mitään havaintoa ovatko nämä uusia vai vanhoja, mutta kivan näköisiä ainakin eikä mulla ole sydäntä näitä käyttää mihinkään!
***

These press stud buttons I have had for quite a while now. I have no idea if they are new or old, but they look really nice and I don't have a heart to use them!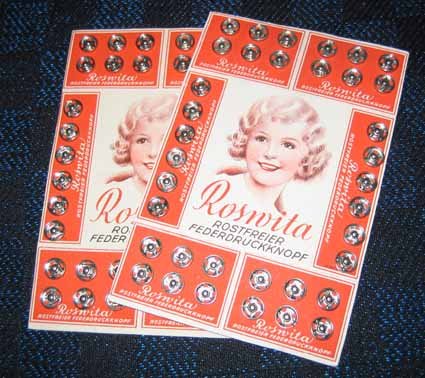 Kiitokset jälleen kerran kaikille kommentoijille! Arvonnan voittaja selviää seuraavassa kirjoituksessa!
***

Thank you for visiting me! The winner of the drawing will be announced in the next post...