Ollaan täällä pisteltykin eikä pelkästään shoppailtu viime aikoina. ;-D Projektit ovat olleet vain aikaslailla salaisia, joten niistä tulee kuvia myöhemmin. Mutta tässä edistystä CCN:n Ladybugs and Bumblebeesin tiimoilta.

I really have been stitching and not shopping all the time lately. Really. ;-D Unfortunately most of my projects have been secret ones so you'll have to wait for the photos... But here's my progress on CCN's Ladybugs and Bumblebees.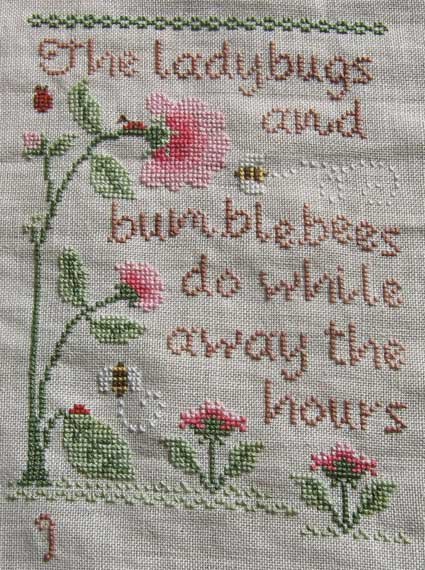 (PS. OUPS! Tää ois muuten hyvä otos siihen "ruttukirjaan"...)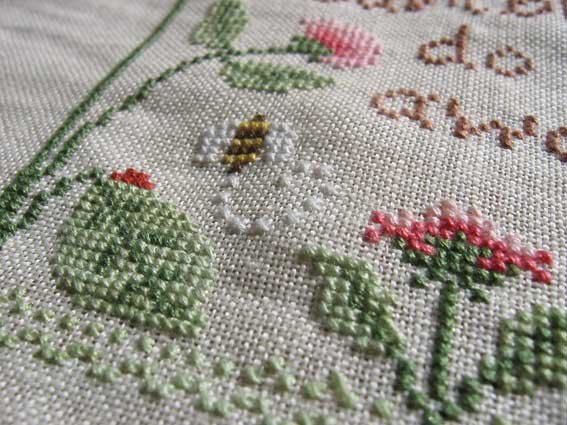 Laitoin alulle myös toisen työn, Bent Creekin Plum Berry Samplerin. Vaihdoin tähän tosin melkein kaikki värit, koska suurin osa alkuperäisistä väreistä oli harmaan sävyisiä ja jotenkin älyttömän tylsiä??? Lintu kyllä pysyi ihan saman värisenä.

I also started a new project, Bent Creek's Plum Berry Sampler. I did change almost all the colours for this one. The original colours just seemed too grey and dull for my taste. The bird has got the original colours.
Lennun
perjantaiblogin inspiroimana haluan minäkin esitellä teille ainakin yhden blogin eli kurkatkaapas
L'R de rien
. Minä en ymmärrä ranskaa en sitten yhtään, mutta seuraan tätä blogia uskollisesti vain ja ainoastaan valokuvien takia. Suosittelen, että selaatte vähän vanhempiakin kirjoituksia. Uskoisin nimittäin, että täältä löytyy vinkkejä toisillekin käsityöimmeisille!!!

I have been inspired by
Leena's
Friday blogs and I'd also like to show at least one blog for you:
L'R de rien
. I don't speak French at all but I follow this blog only because of the photographs. I highly recommend that you go through some of the older posts as well because I believe you will get some pretty neat needlework ideas!