Hiljaa hyvä tulee, vai miten sitä sanotaankaan... Jos tämä ehti lojua laatikon pohjalla n. 1,5 vuotta ilman, että tein sille yhtään mitään, niin eikö ollutkin jo aika kaivaa esille? Tietysti oli loppujen lopuksi tosi nopea viimeistellä, varsinkin kun ajatus tästä viimeistelytavasta oli syntynyt jo pistelyvaiheessa.
Minä olin jopa ihan kaverit ompelukoneenkin kanssa. Ei tarttenut edes pahemmin ärripurria päästellä suusta. ;-D
Mutta
se täytyy kyllä sanoa, että olipa aika vihoviimeinen kangasvalinta. Nuo raidat/ruudut on painettu kankaaseen - eivät ne menneet lähellekään lankasuoraa - eli kangas veti koko ajan jonnekin päin ja lopputulos on kyllä sen näköinen. Mutta kyllä tää mulle omalle seinälle kelpaa. :-)

Slow and steady wins the race - yeah right... If I have had this piece all stitched up in my drawer for about 1,5 years do you reckon it was time for me to dig it out? At the end of the day this was really quick to finish as a wall hanging, especially since I had the idea from the beginning.
I was really friend with the sewing machine this time. I didn't even have to curse that much. ;-D
But
OMG the fabric was a real pain in.... you know. The stripes are printed on the fabric and the print was crooked so the fabric kept on stretching to the other side all the time... You can see it from the end result but I don't mind. This is good enough for my walls. :-)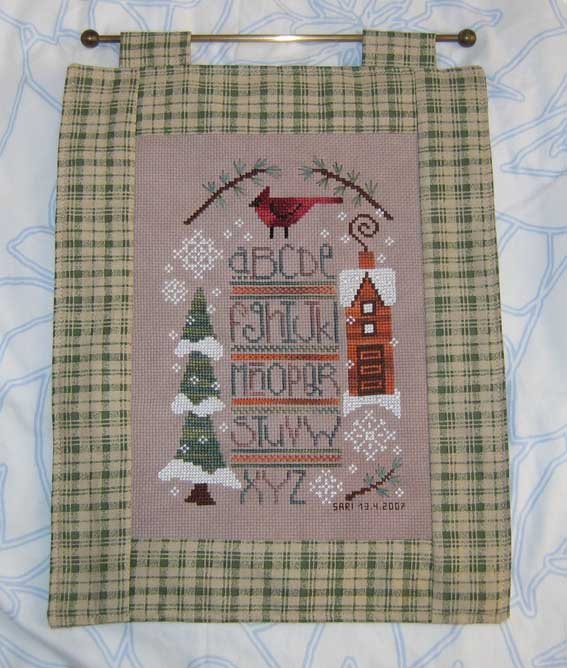 Kiitokset jälleen kerran kaikille ihanista kommenteista, meileistä - ja blogipalkinnoista, joita on taas tullut useampikin kappale! Nuo blogipalkinnot lämmittävät mieltä todella paljon, mutta valitettavasti aikapula tahtoo iskeä päälle ja viime aikoina varsinkaan en niitä täällä ole monestikaan edes maininnut saatikka laittanut eteenpäin. Toivottavasti kukaan ei ole tästä loukkaantunut. Kun on jostain pakko karsia, niin karsin mieluummin tästä kuin pistelyajasta... ;-D
Mukavaa viikkoa kaikille, minulla on vielä tämä viikko lomaa. Tänä aamuna oli +4 C lämmintä klo 7.00, että se siitä kesästä. Ihana kun tulee syksy!

Thank you so much again for the lovely comments, emails and blog awards. I have received quite a few of them lately and they really cheer up my day! Unfortunately - like all of us - I have only a limited amount of free time and recently I haven't even mentioned the awards here or forwarded them to the other blogs. I hope I haven't offended anyone by doing this, it is just that I'd rather give up some computer time than stitching time... ;-D
I hope everyone has a lovely week, I still have this week for vacation. The temperature was +4 C this morning at 7 am - so much for the summer. I love the fact that the fall is coming!