Työn alle lähti uudestaan Ladybugs and Bumblebees. Heivasin edelliselle kankaalle aloittamani työn jonnekin mihin aurinko ei paista ja aloitin samaisen työn uudelleen toiselle kankaalle. Onneksi en ollut ehtinyt pistellä paljoa sitä edellistä (lähinnä tuon yläreunan). Tässä uuden kankaan (32 ct Country French Linen Chantilly) pistelysaldo eiliseltä reissulta.

I started stitching
Ladybugs and Bumblebees
again. I deciced to change the fabric as I didn't like the way the thread colours showed up on it. Here's the progress with the new fabric (which is 32ct Country French Linen Chantilly). I think this is a lot better.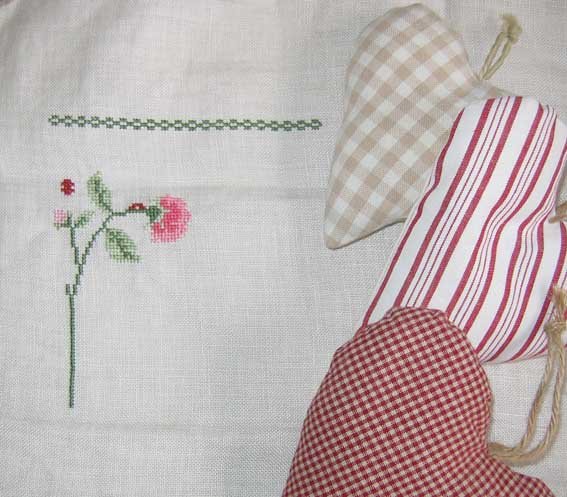 Aloitin myös Little House Needleworksin mallin
Always and Forever
. Kun nyt ollaan vielä niin sydäntunnelmissa edellisen vaihdon puitteissa... ;)
Halutti kokeilla jotain ihan erilaista värimaailmaa, kuin mitä olen viime aikoina pistellyt ja senpä vuoksi kangas ja lanka hieman normaalista poikkeavat. Pistelen tätä 30 ct
tummanruskealle pellavalle
ja lankana Atalien käsinvärjätty silkkilanka
Tahiti
.
Liekö vanhuus tulossa vai mikä, mutta ei tätä kyllä iltaisin kehtaa pistellä kun ei tahdo millään nähdä kankaan reikiä. ;)

I also started stitching on Little House Needleworks'
Always and Forever
. I felt like trying something completely different (colorwise) than what I have used lately. So I'm stitching this on 30ct
dark brown linen
with Atalie's hand dyed silk thread called
Tahiti
.
I'm not sure if I'm getting old or what but I'm really having trouble seeing the holes in the fabric. :-D So I think this will be stitched only during the daytime. :-D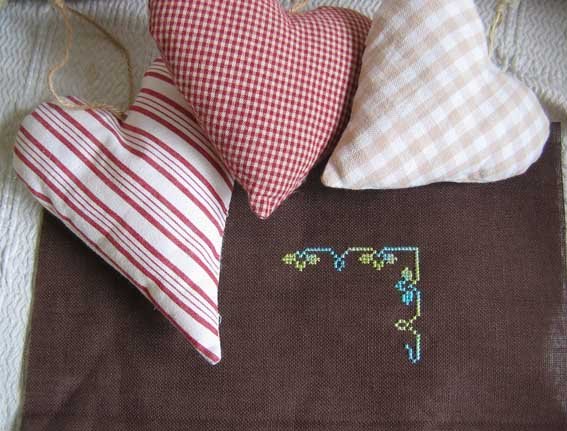 Tuhannet kiitokset jälleen kerran kommentteja jättäneille! Näkystellään!


Thank you so much for the lovely comments again! See ya!