Kylläpä oli eilen mukava ilta Oupsin naisten parissa! Toukka-poikakin oli menossa mukana vaikka oli kovassa kuumeessa. Jaksoi silti rallatella koko illan "piili pieni pyölii" ja hynttästä Ritvan ympärillä ihan kiusaksi asti. :)
Pisteltyä en kyllä saanut juuri ollenkaan, mutta tässä tulos, mitä pistelin illempana. Itse asiassa tämä työ alkaa olla ihan loppusuoralla, vain muutama pisto puuttuu. Tähän malliin kuuluu reunuskin, mutta en ole vielä ihan varma, että pistelenkö sitä ollenkaan. Mullahan oli suurissa suunnitelmissa tehdä tästä ensimmäinen neularulla, mutta tämä valmis pistely on kyllä niiiin pitkä, että saas nähdä mitä tästä tulee loppujen lopuksi...
***
We had a lovely evening yesterday with our local cross stitch group. We stayed at my house all evening and stitched (and gossiped) a lot. Our DS was with us all evening and even with high fever he was singing and jumping around almost all the time. :)
I didn't get a lot stitched during our meeting but here's my progress on Morning Berries later on that night. There are still few stitches missing but it's almost finished. There is also a border in the design but I'm not sure if I will stitch it at all. I was planning on finishing this as my first needle roll but this piece is soooo tall that I'm not sure if it will look good finished that way...

Yksi salainen pistely on valmiina ja toimitettu jo eteenpäin, mutta tässä vilautan toista salaisuutta. Saapa nähdä mitä noista koukeroista tulee loppujen lopuksi... :)
***
One secret stitching down and I have already passed it forward, but here's a tiny glimpse of the next secret project. Who knows what this will turn out to be... :)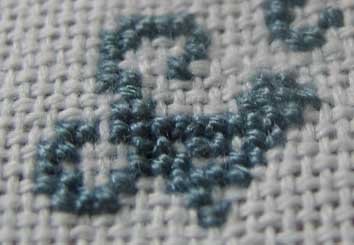 Mukavia kesäpäiviä kaikille ja kiitoksia jälleen kerran kommenteista!
***
Have a lovely rest of the week and thanks for all the comments again!