Ompelukone on surissut tänään ihan kiitettävästi. Ollaan oltu koneen kanssa ihan ystäviä eikä ole tarvinnut edes pahemmin kirotakaan. Toukan housuja tuli korjailtua ja oma t-paita/tunika sai kaulukseen vähän lisäystä, kun oli niin kamalan avara, että meinas perhekalleudetkin näkyä. ;)
***
I have been sewing quite a lot today. I and the sewing machine have actually been really good friends today and everything has gone pretty smoothly. ;) I've been fixing DS's trousers and added a bit of lace to my t-shirt/tunic because the neck was soooo open... Didn't like it.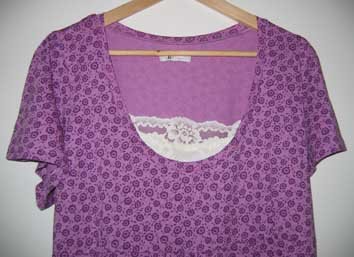 Seuraava ompelutyö onkin sitten suuri mysteeri teille. Se, joka arvaa ensimmäisenä lopputuloksen, voittaa minulta jotain... Palkintona tuskin tulee mitään itse tehtyä, mutta voi hyvinkin olla jotain ristipisto- tai askarteluaiheista. Jos oikeita arvauksia ei tule, arvon kaikkien tähän kirjoitukseen kommentoineiden joukosta voittajan. :)
Ja sitten vähän vihjeitä. Kangaspalat (joita on muutama) ovat kaikki n. 25-35 x 50 cm kooltaan ja kun  ne ovat valmiit, tulen näkemään ne kodissani joka päivä.
Kannattaa kommentoida saman tien, koska puhallan pelin poikki aikataulun salliessa jossain vaiheessa Maanantaina tai Tiistaina. (Eikös ollutkin hyvin ympäripyöreä aikataulu?)
***
The next bit of sewing is a mystery for you guys. The one who guesses correctly first what the finished piece/pieces will be, will win something from me. There probably won't be anything stitched but the award might be something cross stitch or craft related. And if there are no correct answers, I will draw the winner from comments on this post.
And now some hints for you. The fabric pieces (there are several of them) are appr. 25-35 x 50 cm each. When they are finished I will see them at my home every day.

You might want to leave a comment right away. I will close this guessing at some time (depending on my personal schedule) on Monday or Tuesday.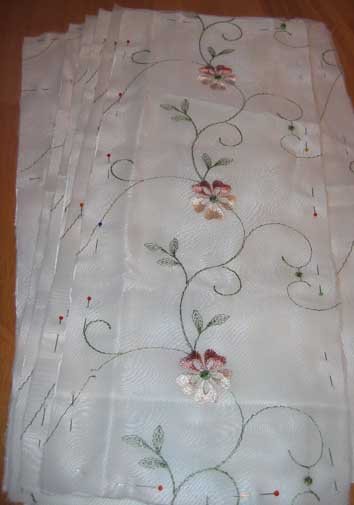 Kiitokset kaikille, jotka ovat jaksaneet jo aiemmin kommentoida. Kyllä niitä on aina niin kiva lukea! :)
***
Thanks to all of you who have commented previously. Your comments are always a joy to read! :)