Jos tuntuu, että minusta ei ole viime aikoina kuulunut mitään, niin se johtuu siitä, että olen nysvännyt tämän kanssa. Voin sanoa ihan sydämeni pohjasta, että onneksi tämä on valmis ja saan unohtaa vähäksi aikaa. (Tungen kyllä jonnekin, missä aurinko ei paista...) ;-D
Loppujen lopuksi purin osan jo pistellyistä pois ja pistelin uudelleen joko toisella sävyllä tai saman langan tummemmalla osalla. Ei ehkä valokuvasta niinkään huomaa, mutta luonnossa ero on kyllä monin osin huomattava. Tosin täytyy kyllä sanoa, että lopussa iski laiskuus enkä kehdannut läheskään kaikkia purkaa, mitä olin ensin ajatellut... :-P
***
If it feels like you haven't heard from me for a while this is the reason... I can honestly say that thank goodness this is finished (and I can bury it someplace where sun doesn't shine)... ;-D

I ended up froggin' some of the stitching here and there and replacing it with either darker thread or the darker shade of the same thread. You can't really tell the difference from a photo but it does show up in daylight. But to be honest, I felt kinda lazy at the end and I didn't frog all that I intended... So I just left them as they were... :-P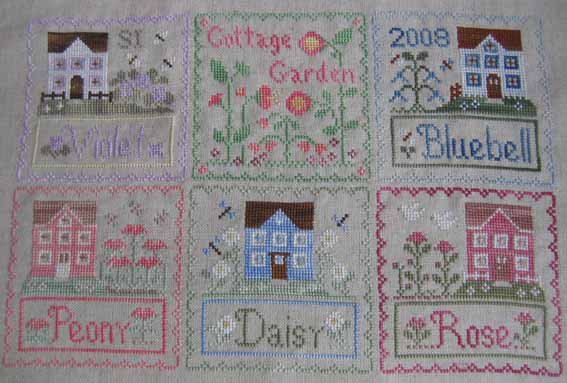 Ruusu oli näistä mun suosikki, tässä vähän lähikuvaa... Ruusu ja Kissankello olivat ainoat mallit, joihin ei tarvinnut vaihtaa värejä, koska niissä oli sen verran tummemmat värit kuin muissa.



***

The Rose was my favourite of these, so here's a close up... The Rose and the Bluebell were the only ones where I didn't have to change any colours 'cause they had so much darker threads than the others.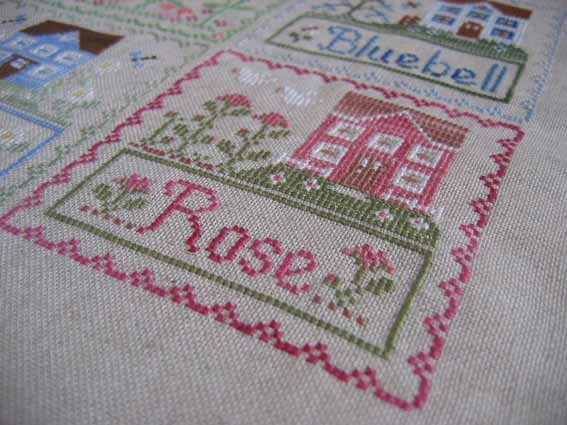 Jaa-a. Mitäs sitten tekis?

***



Oh well. What next?