Uh, jotenkin ei ole viime aikoina tämä blogin päivittäminen napannut ei sitten yhtään. No, päivitysten puuttuminen tietysti tarkoittaa sitä, että pistelylle on (toivottavasti) ollut enemmän aikaa.
LHN:n Summer Sampler on edistynyt ihan mukavaa tahtia. Mietin tuossa just, että pitäis keskittyä myös niihin CCN:n kukkajutskiin, mutta kun jotenkin meni inspis niiden suhteen ihan kokonaan. Uhkaavasti alkaa leijua ufo-pilviä sen työn yllä... :-o
Päässä on pyörinyt jo pidemmän aikaa suunnitelmia muutaman salaisen pistelyn tiimoilta. Niistä ehkä joskus myöhemmin enemmän... :-)
***
Blaah. Somehow I seem to make up a lot of excuses not to update my blog these days... I don't know, it just takes so much time and it is time away from my family and stitching, of course. I have been stitching a lot lately though, something I can't show you just yet and something I can.
Here's the progress on the Summer Sampler. Also, I was just thinking that I should really concentrate on finishing the CCN flower thread packs 'cause it looks like they are gathering the UFO labels on them quite fast.... :-o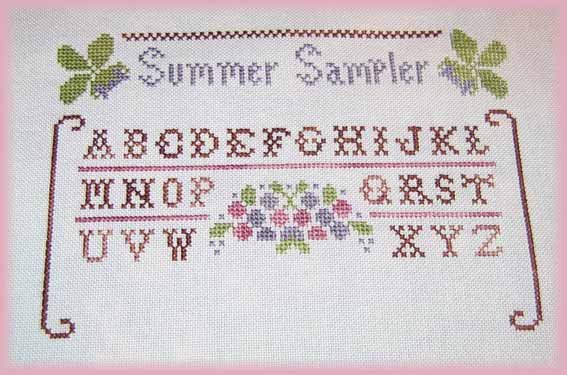 Ai niin, ja yks tunnustuskin on shopaholicilla tehtävänä.
***
Oh yeah. Here's the latest confession of a shopaholic.