Mukavaa Uutta Vuotta kaikille!
Tässä kortti, jonka pistelin
Marille
Yahoon Ristipistolistan synttärivaihtoon joululomalla. Lomaa oli melkein 2,5 viikkoa ja tämä oli ainoa pistely, jonka sain aikaiseksi - uskomatonta, mutta totta. Marin pakettiin lähti tietysti mukaan muutakin, mutta niitä voitte tsiigailla Marin blogista, jos jaksatte. Malli on
Lizzie Katen
ja ensimmäistä kertaa pistelin yhden yli jotakin.
***
Happy New Year Everyone!
Here's a card I stitched for
Mari
in Finnish cross stitch groups birthday exchange. I also sent some other goodies and you can see the photo of them in Mari's blog (in Finnish only). I had almost 2,5 weeks vacation during the Christmas time and all I stitched was this card. Can you believe it? The design is by Lizzie Kate and this was the first time I stitched something over one.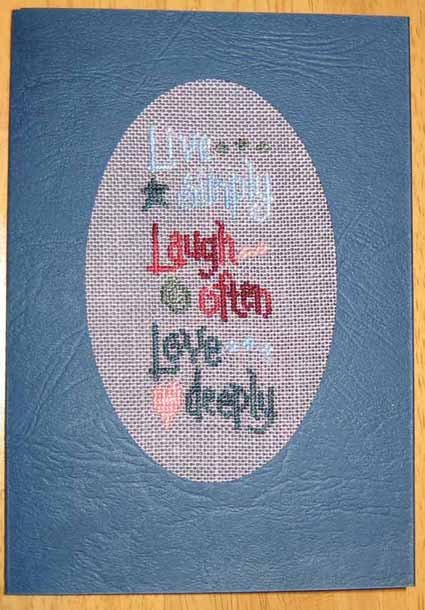 Uuden vuoden lupauksia ei tullut juuri tehtyä, mutta olen kyllä itsekseni ajatellut, että jokohan sitä pystyisi keskittymään tuohon
Victorian Elegance -työhön
? Harmittaa ihan älyttömästi, että se on jäänyt kesken ja tässä vaiheessa alkaa olla jo ihan sama onko siinä niitä silkkinauhakirjoiluja vai ei.
Ylemmässä kuvassa työ ilman nauhoja ja alemmassa nauhojen kanssa. Oishan tuo kyllä upea nauhoillakin... vai mitä?
***
No New Year's resolutions for me but I have been thinking that maybe it is time to dig out the Victorian Elegance out of the closet this year. I really hate the fact that it became an Ufo and I would really love to see it finished - with or without the silk ribbon embroidery.

The picture on the top is finished without the silk ribbon embroidery and the lower one with them. It does look gorgeous with ribbons though and they really do add the 3D effect to it... what do ya think?


Nettiä surffatessa törmäsin tällaiseen kuvaan. Kuvitella, että joku on tehnyt täytekakun tästä samasta mallista!

***


And while surfing the net for the photos I came across this one. Wow, someone has actually made a cake with this design! Excellent!