Minua on potkinut viime aikoina hyvä onni. Tässä ensimmäinen lähetys (luvassa lisää polkkauksia aiheesta), joka saapui Singaporesta asti. Voitin tämän
Cindyn blogiarvonnassa
, jossa hän juhli samaan aikaan synttäreitään ja uuden kauppansa
Lemonstitchesin
avaamista.
Pussukka oli pakattu ihanaan vihreään harsomaiseen kankaaseen ja se tuoksui aivan ihanalle! Sisältä paljastui tämä iki-ihana pikkuruinen meikki?pussukka. On muuten aivan älyttömän siististi ommeltu, Cindy voi kyllä hyvillä mielin olla ylpeä töistään! (PS. Parempia kuvia Cindyn blogissa.)
***
I have had some really good luck with the drawings lately. (You'll probably see more postings about this matter.) Here's one thing I received yesterday all the way from Singapore. :) I won this at
Cindy's blog drawing
, she was celebrating her birthday and opening of her new shop called
Lemonstitches
.
The purse is absolutely gorgeous and I love it! For some reason or another it smelled absolutely lovely when it arrived and on top of everything else, it is sewn very neatly. She can really be proud of her work! (PS. Better photos in Cindy's blog.)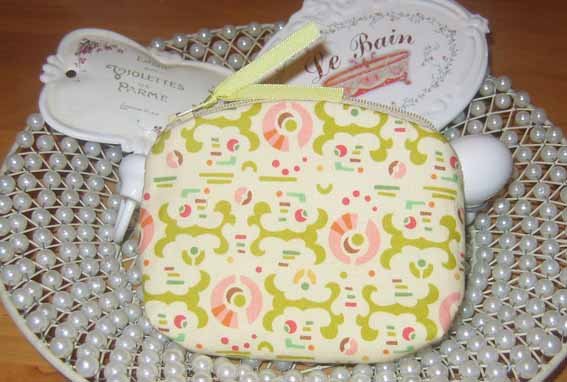 Ja sitten asiasta kolmanteen. Mua ei mikään raivostuta niin paljon kuin se, että kun yrittää ährätä jotain käsitöitä, niin sitten ei ole sopivia kankaita. No, jos näistä olis ensiapua seuraavaan ähräykseen. Lähetys
Fabric Shackilta
saapui pari päivää sitten, hurjan nopeaa tahtia kuten aina ennenkin. ;)
***
And to another matter... Nothing annoys me so much than when I try to make cross stitch ornaments or what ever and I don't have perfect fabrics for them. Well, I hope these will come handy next time... The delivery from Fabric Shack arrived couple of days ago and it arrived very very fast like always before. ;)