Ette kait te
Mia
ja
Jaana
ihan tosissanne luulleet, että mä maltan olla avaamatta näitä huomiseen asti? No en tosiaankaan malttanut. :-D Sain tosiaan neitokaisilta
Ristipistolistan
synttäriswapin osuuden ja kyllä näiden perään on nyt sitten huokailtukin.
***
Mia and Jaana, you really didn't think that I had the patience to wait 'till tomorrow? Nope, I didn't have. I took part in the Birthday swap in Finnish cross stitch group and received these lovely gifts from them and yes, I've been drooling over these for the whole evening already. :-D
***
Mia lähetti Violariumin välityksellä Isabelle Vautierin ihanan koira-mallin Mon Petit Chien sekä Atalien silkkilankaa, värinä Lhassa. Tuo väri on muuten just kuin mulle tehty, tuollainen ihanan syksyinen oranssin-kellertävä-kullanruskea.
***
Mia sent me (via Violarium) the lovely dog sampler called Mon Petit Chien by Isabelle Vautier and silk thread by Atalie, the colour is called Lhassa. I absolutely love the colour, it is so pretty with all the shades of orange, yellow and golden brown.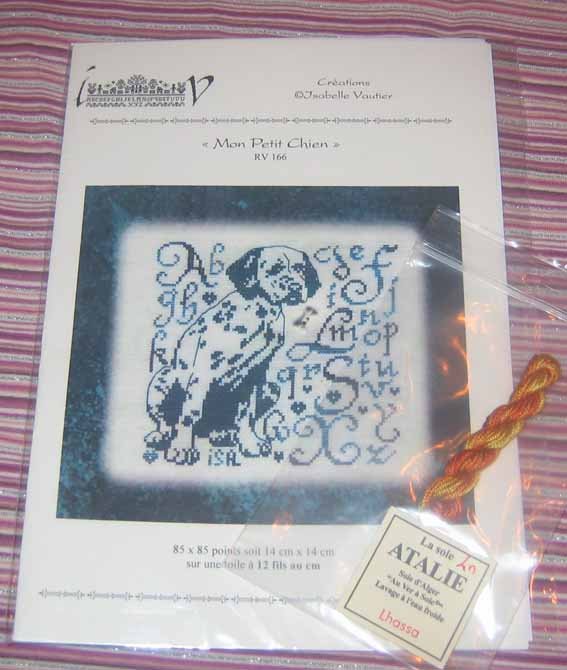 Jaanalta sain myös vaikka mitä ihanaa: nappeja, kukkaron lukkojutun, mustan pellavakankaan, karkkia, Ankkurin lankaa ja Atalien silkkilankaa (Tahiti) ja hurrrjan monta ristipisteltyä juttua: kortti, kirjanmerkki ja tuo jännä kelttikiekurainen koriste.
***
Jaana sent me lots of lovely things - and look how many stitched items; the card, the bookmark and the lovely celtic ornament.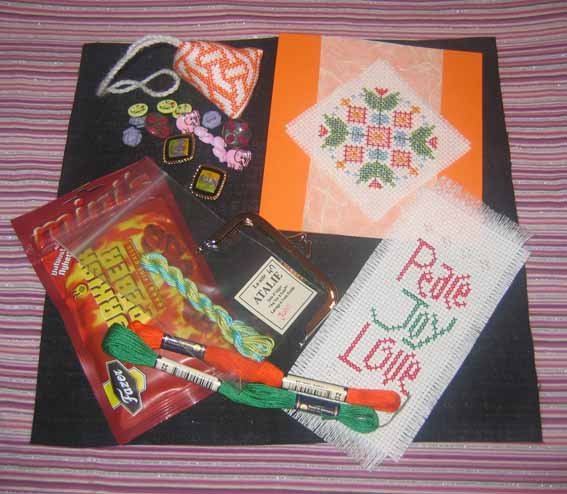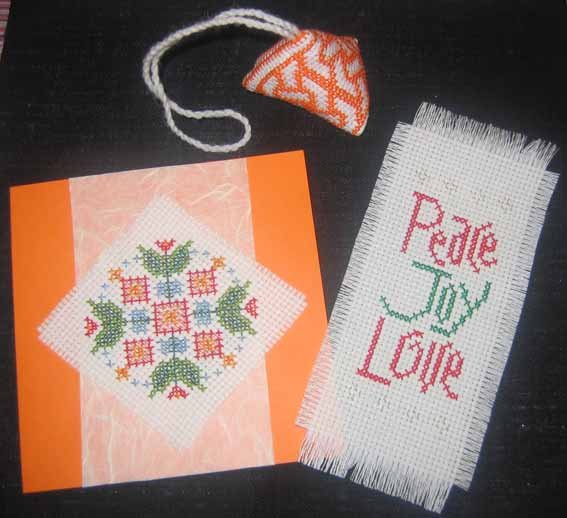 Onpa mukavaa kun vihdoinkin pääsen kokeilemaan noita Atalien silkkilankoja. Ja tuon mustan pellavakankaan näen jo sieluni silmillä jossain Halloween-aiheisessa työssä. :)
Kiitos, tytsyt, aivan älyttömästi! Lahjat olivat todella mieluisia! :)
***
I'm so looking forward stitching with the Atalie silk thread because I've never tried it before. And the black linen, I can already see something in Halloween style stitched on it. :)
Thank you ladies so much for the presents, I truly loved them! :)