Tässä vaiheessa mennään, olen kyllä ihan tyytyväinen edistymiseen. Kun aloin pistelemään tuota ylälaidan kirjoitusta, niin sanoin Ukolle, että ois aivan hirveää jos siinä tulis semmoinen virhe, että pitäisi purkaa pois koko rivi. Ei kannattais maalata piruja seinille. Virhe siellä on - vieläpä ensimmäisessä kirjaimessa - mutta kun ei sitä huomaa, niin sielläpä olkoot. En ala purkamaan.
***
Here's the progress on my Forest Snowfall by Country Cottage Needleworks. I'm really pleased with this so far and I like the design a lot. Everytime I see this phrase, it reminds me of the song "Let it snow, let it snow, let it snow..." :) When I started stitching the first row of the phrase I said to my TSO that it would be awful if I made a spelling mistake and I would have to frog the whole row. Well.. There is a mistake, in the first letter to be honest, but I did not frog it. You can't really see it so I decided to leave it there.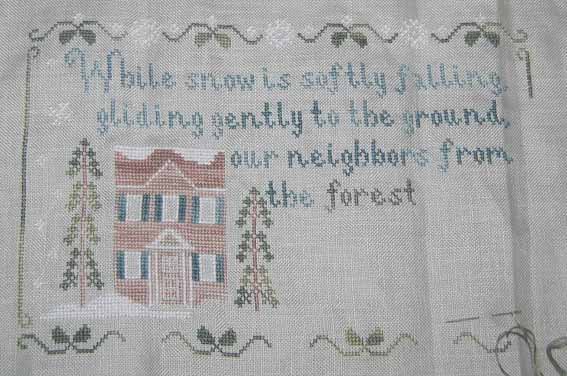 Mutta sitten tarvitsen teidän mielipidettä. Mä pistelen tätä mallia juuri niilla langoilla, jotka mallissa on sanottu, mutta jokin tässä nyt mättää. Katon pitäisi olla huomattavasti tummempi kuin tuo seinä, väriero näkyy hyvin
tässä alkuperäisessä mallikuvassa
. Ja vaikka tässä mun kuvassa noilla langoilla onkin selvä ero, päivänvalossa se ero on vielä pienempi ja tuo katto sulautuu ihan selvästi seinän väriin. Vitsin vitsit, mä kyllä taidan purkaa tuon katon pois ja tehdä sen jollakin toisella langalla... Höh.
But I do need your opinion on one thing. I am using all of the required threads but something is not right. The roof should be a lot darker, just click here and you can see the original photo of the design. The wall and the roof are stitched with two different threads and I really don't like how they turned out, their colours are just too close to each other. You can see the difference in the colours a lot clearer in this photo, but in the daylight they almost have no difference at all... What you do think? Should I just go ahead, frog it and use another thread?