Ensinnäkin, kiitokset kaikille onnitteluista. :) Tän ikäinen ei enää paljon synttäreitä juhli, mutta tuohan ne synttärit vähän vaihtelua normaaliin päiväjärjestykseen. Mieltä lämmitti erityisesti viikko sitten kuultu kommentti entuudestaan tuntemattomalta naiselta, joka uteli mun ikää ja sanoi, että "et sinä ainakaan ole päivääkään päälle 25". Buahhahhaaa. :) (No en tietenkään ole. Höh. Mitä te luulitte?)
Mutta asiaan. Olen ollut eilisestä asti onnesta mykkänä ja siitä saan kiittää seuraavia neitokaisia.
Ensinnäkin, tällainen lähetys tupsahti postilaatikkoon
Kuusamon Leenalta
. (Ja hämäyksenä vielä postileimassa luki jotain aivan muuta kuin Kuusamo, joten piti ihan sähköpostilla tarkistaa, että olitko se sinä...) Mun nappi- ja kangasvarastoni kasvoivat jälleen kerran, mistä en ole en sitten yhtään pahoillani. Ihania ovat kaikki ja voin taatusti luvata, että eivät jää kaappiin pölyttymään. :-D Suurkiitokset, Leena, toivottavasti nähdään taas pian! Harmittaa vieläkin, että en vastikään päässyt teille päin vierailulle.
***
First of all, thanks to everyone who has congratulated me here in blog and on discussion groups. Even thought I am already soooo old that I don´t celebrate birthdays any more your words have spiced up my day. :) Especially the comment I received about a week ago from a lady who doesn't know me that well. She asked me how old I was and said in the same sentence that "you really can't be more than 25". Ha ha ha. (Well of course I'm not. What ever did you think?)

The reason I have been utterly speechless is because of the two Leena´s.

First of all, this is what I found in my mailbox from Leena in Kuusamo. As you can see, my fabric and button collection grew a bit more, but I can assure you that these will definately be used. I love each and every bit of them so thank you so much, Leena!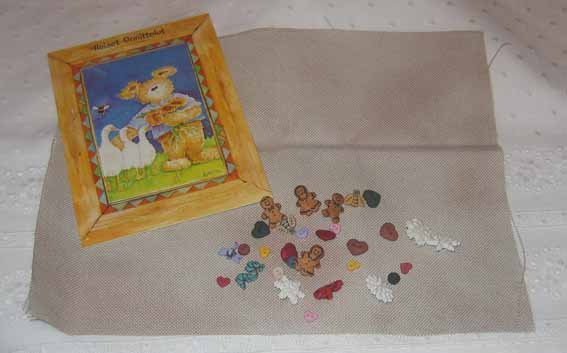 Toiseksi, iltamyöhällä sain tekstiviestin, jossa luki, että mene katsomaan postilaatikko. Ja sieltä löytyi
Lennulta
paketti, jossa oli sisällä tämä iiiiiiiik-ihana pinkeep. Malli on Little House Needleworksin & Country Cottage Needleworksin yhteistyötä (ja kaikkihan te tiedätte, että LHN:n ja CCN:n taustalla ovat äiti ja tytär) ja voisko tää nyt enää olla yhtään enempää mun näköinen? Leena on osunut kyllä niin nappiin, että ei tosikaan. Kyllä sä oot ihan höntti kun tämmöisiä yllätyksiä järjestät, mutta älä kuvittelekaan, että tätä takaisin antaisin. ;-D Suurkiitokset!
***
Second, I received a text message late last night saying that I should go and check out my mail box. Ja what did I find there? A small package from
Leena in Haukipudas
and this lovely pinkeep inside the package. The design is Little House Needleworks & Country Cottage Needleworks collaboration (and you all know of course that the ladies behind LHN & CCN are mother and daughter). And could any pinkeep look more like me than this one? Leena has really nailed it to the point. I couldn't be more pleased, so a big thank you to you Leena!