Neulat eivät ole oikein suihkineet viime aikoina (puhumattakaan sukkapuikoista, kröhöm, mitä ne on), mutta luottokortti on suihkinut sitäkin enemmän.

Kovasti tätä eHandcrafts-kauppaa on kehuttu ja siksi uskaltauduin liittymään heidän automaattiselle postituslistalle. Postittavat siis Country Cottage Needleworksin thread packsit heti kun ne tulevat myyntiin. Kaksi pakkausta minulle on jo tullut (yksi oli entuudestaan) ja vielä odottelen kangasta, jotta saan pisteltyä nuo kaikki yhdeksi isoksi tauluksi. Loput kolme pakkausta on vielä ilmestymättä. (Mutta älkää vaan kysykö milloin aion nuo pistellä, mulla on nykyään krooninen aikapula.)

***

I haven't been stitching for almost a week now (and don't even start about the scarf and the mittens I'm suppose to knit), but I have been swiping my credit card more lately... ;)

I have heard a lot of good about shop called eHandcrafts and that's why I decided to join their automatic shipping for the Country Cottage Needleworks thread packs. I have received two packs (I already had one) and I'm waiting for a large pearl linen so that I can stitch these all as a one big sampler. Three more packs are still to be published. I really have no idea when I will have the time to stitch these, hopefully some day. Atleast I will have them in my stash. ;) (And you know that makes any cross stitcher very happy.)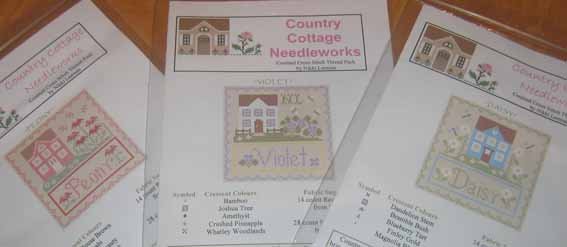 Ja kun on kerran kauppoja alettu kehumaan, niin pakko hehkuttaa Violariumia, joka on ehdottomasti yks mun suosikkikaupoista. Just Cross Stitch Christmas Issue oli aivan pakko ostaa Lennulta, samoin kuin pellava-kankaita. Ja vinkkinä kaikille ristipistoilijoille voin sanoa, että kannattaa liittyä Violariumin postituslistalle, koska Lennulla on useasti todella hyviä tarjouksia yksinomaan postituslistan jäsenille! Ja ihan oikeesti, oottako te nähneet näitä uusia C Mon Monden ja Tournicotonin malleja? IIKS!

***

And since I started talking about online cross stitch shops, I just have to mention Violarium again, which is definately one of my favourite shops. (And not only because it is located only 15 min. drive from my home.) I just had to buy JCS 2007 Christmas Issue from Lennu as well as some linen for the future cross stitch projects. And one hint for all the stitchers: you might want to join Violarium's newsletter. Lennu

has got

quite often some very good offers to newsletter subscribers. And have you seen these C Mon Monde and Tournicoton designs yet?