Olipa taas kiva ilta "ristipistomummojen" (lue: Oupsin naisten) seurassa. Marille kiitokset emännöinnistä! :) Pistelin ja purin koko illan Little House Needleworksin Herb Gardenia ja tällä mallilla se on nyt.

**'

What a wonderful time we had at the local cross stitch meeting again. I stitched and frogged Little House Needleworks' Herb Garden the whole evening and this is how it looks like at the moment.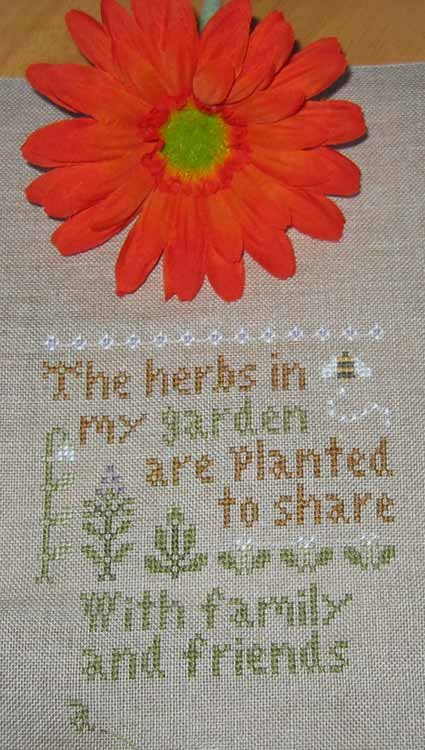 Kotona odotti myös pino mukavaa postia kun Huutiksen voitot olivat kotiutuneet... Pari lehteä, pari mallia ja kankaita. Postitse tuli myös muuta mukavaa, mutta siitä tulee ihan oma postauksensa. :)

***



I had some really nice post when I arrived at home. I won these at finnish online auction house; some fabric, couple of magazines and couple of charts. I received something  else as well but more of that later on...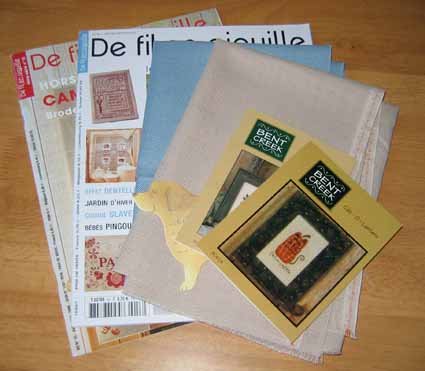 Pöydällä makaa myös pino malleja, jotka sain Marylta USA:sta. Hän oli tehnyt inventaariota mallikokoelmaansa ja lahjoitti mallejaan useammalle eri ihmiselle. Minulle tulivat nämä, kiitokset! :)

***

I also have a nice pile of charts on my table. I received these from Mary in USA last week. She had made an inventory on her stash pile and donated charts for several people. I received these, Thanks Mary! :)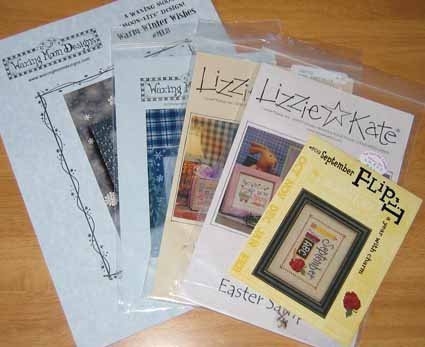 Jostain kumman syystä Ukko on alkanut pyöritellä silmiään ja huokailla syvään joka kerta kun katsoo näitä mun pinoja. No, kohta saa huokailla lisää, kunhan tilaus SBB:ltä kotiutuu. ;-D Hah haa. ;-D

***

For some reason or another TSI has started to sigh a lot every time he looks at these piles. Oh well, I'll give him a lot more reasons to sigh when my order from SBB arrives. 

;-D Ha ha. ;-D

(Now that might be a while, but anyway.)