Muuten hyvä, mutta kaikki pehmusteet unohtuivat pois. ;-D Juuri kun olin saanut liimattua kankaat kiinni pahviin (ja oikein pyykkipojilla kiinni, että pysyivät kans), niin jysähti mieleen, että onpa se kovin kapoisen näköinen... ;-D
Malli on Heart in Handin Little angel in the clouds ja olen pistellyt sen joskus pari kuukautta sitten. Oli tarkoitus laittaa tää yhteen vaihtoon, mutta muutin sitten mieleni ja otin testikappaleeksi...
***
Here's my first pinkeep ever. It's ok otherwise except that I forgot all the padding... ;-D Just when I had superglued the fabrics to the cardboard (and put the cloth pegs on top so that they would really stitck together) I sort of thought to myself that "they look a bit thin don't they"... ;-D Oh well, you live and learn.
The design is Heart in Hand's Little angel in the clouds and I have stitched it couple of months ago. I meant to give it away in one exchange but I changed my mind and kept this as a test piece for myself...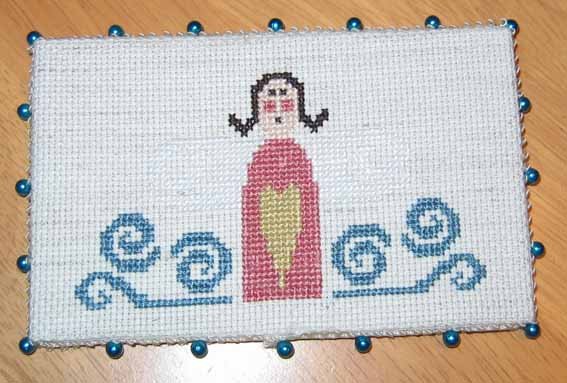 On sillä siivet, uskokaa jo!
PS. Helmipäisiä nuppineuloja saa
Violariumista
! (Nää mun on jotain halpaversioita, mutta Lennulla on parempia.)
***
And look! She really does have wings.

PS. You can order the pearl pins from Violarium. (Well to be honest, mine are the cheap ones but Leena has got the good stuff in her shop.)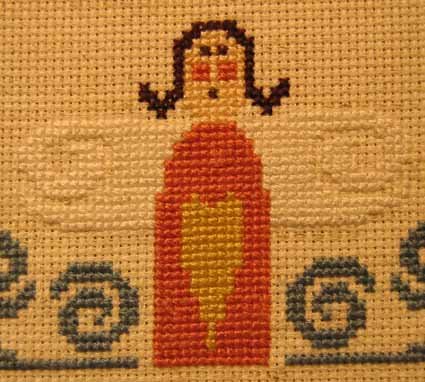 Meri-aiheinen kirjekuori on myös viimeistelty valmiiksi saakka, mutta siitä kuvia kunhan vastaanottaja on sen saanut. Pistelyosuus oli sinänsä helppo, koska malli oli mieluinen, mutta viimeistely oli työn ja tuskan takana kun ei ollut oikein ideoita suuntaan eikä toiseen....
***
I have also finished the sea themed mail art and I will post it on Monday. The stitching bit was easy but finishing was such a pain. Not the finishing bit itself but I was so out of ideas how to finish it that I almost gave up. I'll post some photos when the recipient has let me know that she has received the envelope.