Tässäpä se voitettu
Pine Mountain Designsin
pikkutyyny valmiina. :) Oli aivan pakko pistellä tämä heti valmiiksi kun halusin nähdä miltä näyttää valmiina. :) Ja enhän mä nyt Jenkkilän lippua voinut pistellä, niin vaihdoin sitten Suomen lippuun. Tuohon korin viereen ois pitänyt pistellä joku höttiäinen, mutta minähän se en mitään ötököitä pistele.
***
And here is the small pillow Summer Foursome by Pine Mountain Designs. I just had to stitch it right away so I could see how it looks when finished. :) And of course I just couldn't stitch US flag so I stitched Finland's instead. :) There's some kind of bug by the basket in the chart but I just refuse to stitch any insects.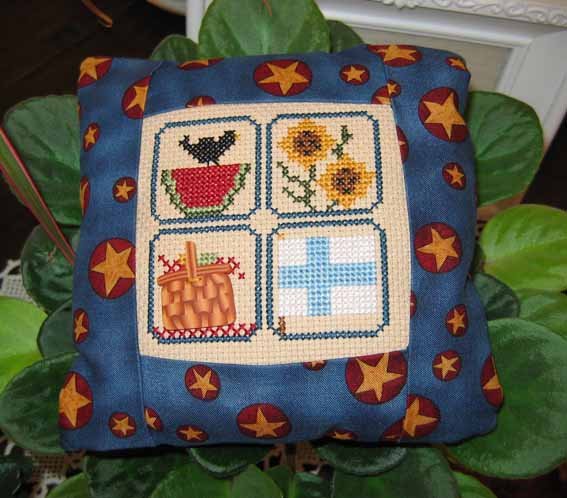 Tässä vielä kuva miltä se malli oikeasti näyttää. :)
***
And here's the picture of the original chart with US flag.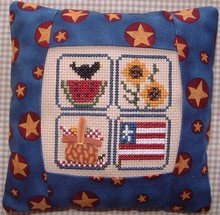 Kiitokset jälleen kerran kaikille vierailijoille! Mä olen ollut aivan äimänkäkenä, kun olen katsellut tuota tilastosivua ja nähnyt kuinka paljon täällä käy keskimäärin porukkaa päivässä. Ja kommentoijille erityiskiitokset, teidän kirjoituksia on aina mukava lukea. :)

***

Once again a big thank you for all the visitors! I have been truly surprised to see how many people read my blog every day. And a special thank you to all of you who are kind enough to comment, your comments are always a pleasure to read.