Voihan ihanuuksien ihanuus! Sain nyt oman osuuteni keltti-kirjekuorivaihdosta ja kuori tuli Lilianilta Hollannista. Eikö olekin aivan ihana? Oranssi on yksi minun lempiväreistä ja ohhoh, kuori ei olekaan kuori, vaan pikkuinen korupussukka matkalle!
***
I received the Celtic envelope exchange today from Lilian in the Netherlands. Lilian, you really made my day! This is so beautiful! Orange is one of my favourite colours and what do know, the envelope isn't really an envelope but a travel case for jewellery! :-D Isn't this a brilliant idea?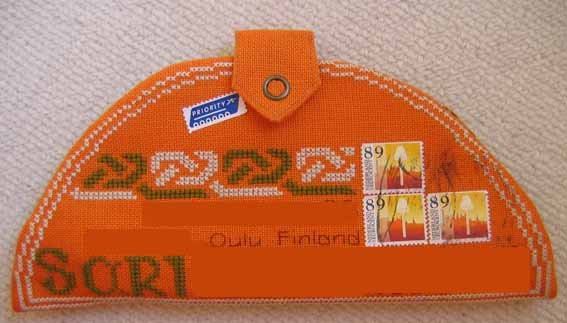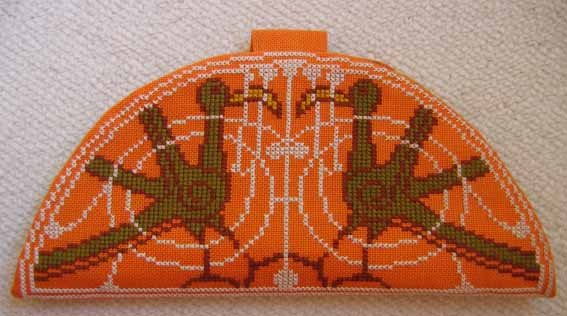 Tuohon pötkylään laitetaan sormukset talteen ja vetoketjutaskuun muut korut. Eikö olekin aivan loistava idea? :-D
Olihan siellä kuoren sisälläkin jotain, mut on nyt ihan lellitty pilalle. ;-D Lankaa, malli, kangasta, kirje Lilianilta ja käsintehty (?) kaulakoru.
***
Lilian wrote a letter saying that she saw these kinds of jewelery cases on her holiday and you use the "finger" to hold your rings and put other jewelery inside the pocket.
There were also some goodies in the envelope; threads, fabric, cross stitch chart, letter from Lilian and handmade (?) necklace. You really spoiled me rotten, Lilian. ;-D