Pistelin toissa päivänä valmiiksi yhden pikkuisen työn, mutta en taida vielä laittaa kuvia näytille. Olen suunnitellut siitä korttia tms.
Yahoo / Ristipiston
toiselle synttäriswappiparilleni. Voi tosin olla, että mieli ehtii muuttua ja teenkin siitä aivan jotain muuta. No, onneksi on vielä aikaa miettiä. ;)
Pistelin
Jaanalle
Yahoo / Stitched mail art
-vaihdossa Celtic-aiheisen kirjekuoren ja se on nyt mennyt perille, joten siitä ainakin voin laittaa kuvia näytille...
Tuo Irish blessing -teksti on alunperin mun kirjanmerkistä ja oli siinä kyllä aikamoinen homma, että sai tuon tekstin sommiteltua ensin paperille ja sitten kirjekuoreen... Pistely oli sinänsä nopeaa, mutta se mallin teko lyijykynällä ja pyyhekumilla... Aika työlästä, mutta kerrankos sitä kaikkea kokeilee.
Ja pikkuisen mulla oli hauskaa postitoimistossa kun vein tätä kirjettä... PostiMies, joka otti tämän kuoren vastaan, tenttasi minua tuosta kuoresta aivan älyttömästi. (Miten se on tehty, olenko tehnyt itse jne.) Oiskohan PostiMies ollut potentiaalinen lisä
Oupsin
joukkoihin? :-D
***
Jaana
has received the Celtic envelope in
Yahoo / Stitched mail art
exchange, so I can post some photos...
The Irish blessing on the back was really quick to stitch - but it took me soooo long to make the chart for the text and then fit it on the back of the envelope. (The Irish Blessing is from one of my bookmarks I bought from Ireland.)
I had so much fun when I took this envelope to the post office. The postMAN (and I do mean man) who took the envelope had so many questions about it (if I made it myself and how it is made etc.). I almost thought that he might soon be converted to cross stitching. Ha ha! :D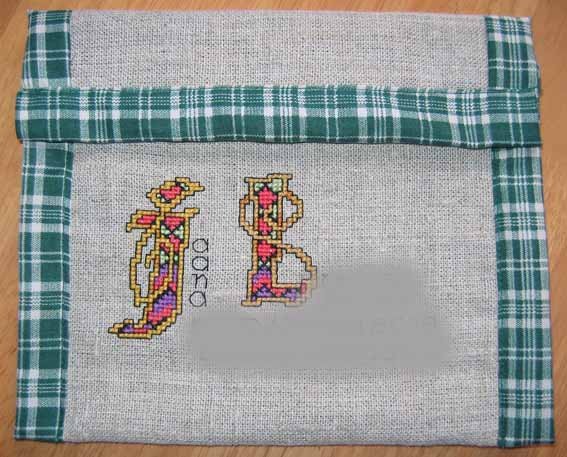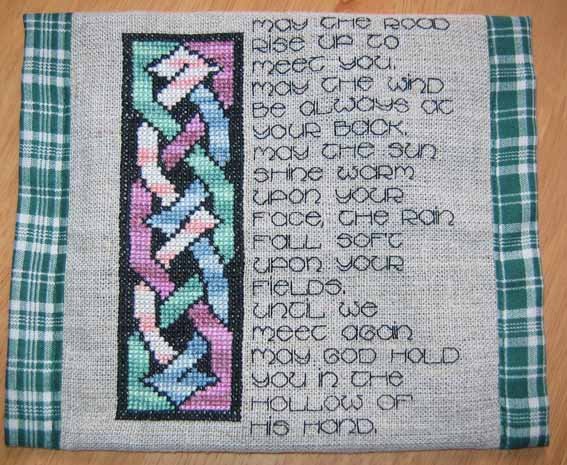 May the road rise up to meet you
May the wind be always at your back
May the sun shine warm upon your face,
the rain fall soft upon your fields.
Until we meet again,
may God hold you in the hollow of His hand.