Sain tänään muhkean kirjekuoren ja ihmettelin, että kuka ihme mulle lähettää tuommoisesta postiosoitteesta postia... :-D Se oli
Pirre
, joka on ollut mun
SRPY-kamu
maaliskuusta asti! :-D Ja kyllä, yllätys säilyi loppuun asti eli en tosiaan osannut odottaa postia sinulta! (Blogisi on ollut muuten suosikeissa jo pidemmän aikaa, joten "blogituttuihin" olet kyllä kuulunut.)
Mutta. Kirjekuoresta paljastuivat nämä ihanuudet. Mä olen ihan varma, että mun ajatuksia on luettu, kangas nimittäin passaa just ku nakutettu
näihin Welcome ja Tea Room -töihin
. Mä oon hypistellyt tuota kangasta aivan innoissani ja tuntuu, että nuo mallit pitäisi päästä aloittamaan saman tien! :-D
***
I received a large envelope today and wondered who could send me post from that kind of address. :-D It was
Pirre
, she has been my Secret Sister since March! And yes, the surprise remained all the way to the end, I had no idea that she was my SS.

This is what I received. I'm pretty sure she has read my mind because the fabric will be perfect for Welcome and Tea Room.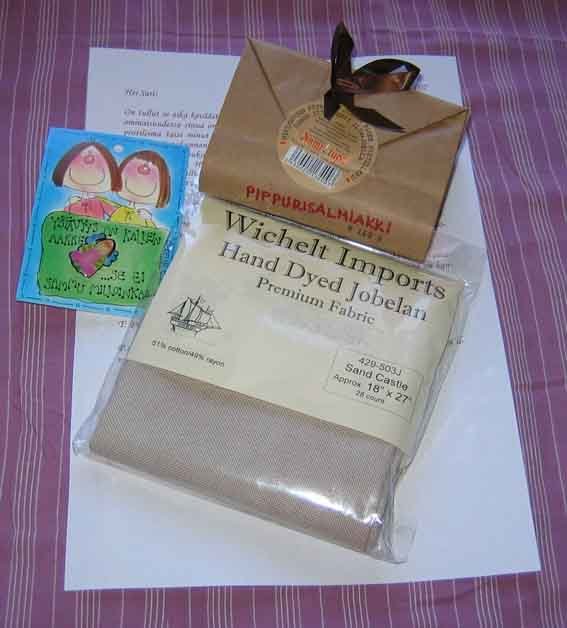 Pinssi on myös ihana - ja nuo karkit! En oo muuten aikaisemmin maistanut, ja hyviä ovat! :-) (Ja mähän olen niin salmiakkihullu, että  olen aina ensimmäisenä ostamassa uudet kauppaan ilmestyvät salmiakit...)

***
The small pin is also very cute, there is a nice saying about friendship in the card.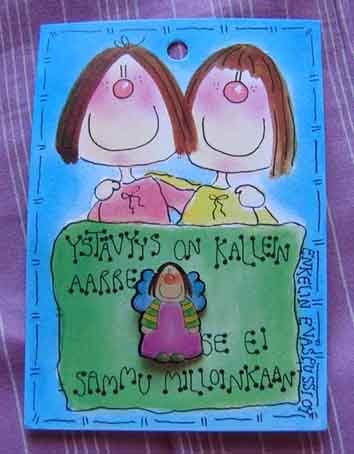 Tuossa salmiakkipussissa oli tämmöinen kiva teksti takana tarrassa: "Hypäkköhön pöyrälle jollon paree pastilleri! Nämon itte tehty Ilimajoella."
***
There was also some finnish candy I had never tasted before. These were really good!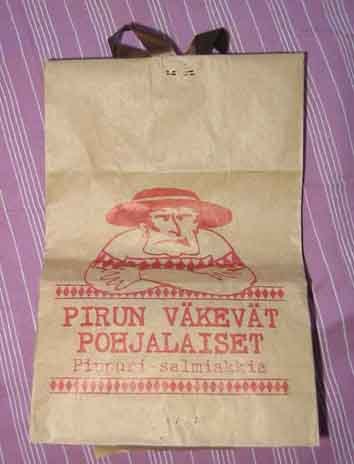 Kiitokset vielä kerran, Pirre! Olet ollut tykätty kaveri! :-D
PS. Kirje oli myös kiva yllätys!