Olin useamman päivän reissussa ja kun tulin kotiin, niin minua odotti tällainen ihana yllätys.
Srpy2007
-kaverini oli lähettänyt minulle kirjeen, jossa oli Jeremiah Junctionin malli Stither at heart, suklaata ja kortti. Voin muuten ihan rehellisesti sanoa, että tuon mallin perään minä olen kuolannut aika monta kertaa (niin kuin on muistaakseni
hänkin
)... Kiitokset ihanasta postista!
Ja utelias kun olen, niin tiirailin, että missä kirjekuori oli leimattu. :-D Jätän paikkakunnan nyt kertomatta ja sanon vain sen verran, että ei kyllä ihan yhtäkkiä tule mieleen, että kuka siellä asuu... Tai voihan olla, että srpy:ni on pyytänyt vaikka kaveriaan postittamaan kirjeen toiselta paikkakunnalta. (Minulla nimittäin ainakin kävi sellainen mielessä oman parini kohdalla.) Tämähän menee jännäksi.
***
I haven't been at home for few days and when I got back today there was a very lovely surprise waiting for me. My pal from finnish secret cross stitch friend (srpy2007) had sent me an envelope with JJ's Stitcher at heart chart, some chocolate and postcard. I can honestly say that I have been drooling over that chart for quite some time (and so has
she
if I can recall correct)...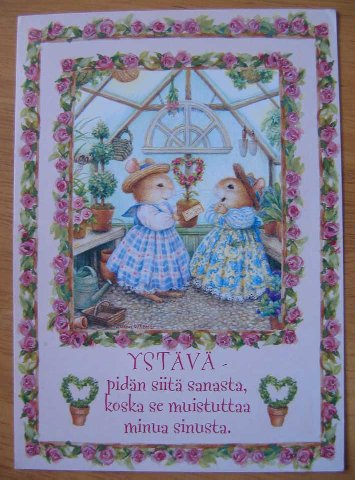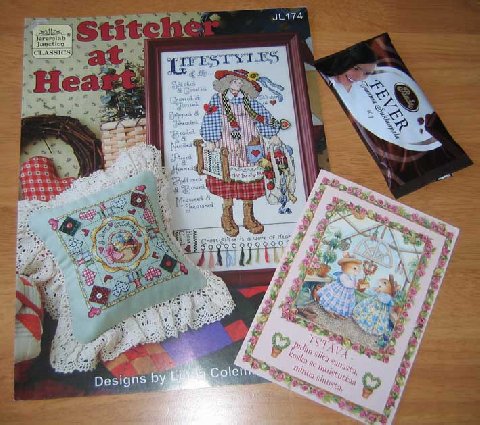 Uusin Cross Stitcher oli myös kolahtanut postilaatikkoon, joten ilta taitaakin mennä sitä lukiessa ja Bent Creekin mallia pistellessä...