Tilasin muutama viikko sitten
Violariumista
The Gift of Stitching
-lehden. Lehti ilmestyy PDF-versiona kerran kuukaudessa - ja maksaa vain 10 €/vuosi, joten on todella halpa lehti. Pari numeroa olen ehtinyt jo ladata netistä ja ihan ok tuntuu olevan. Täysin erilainen kuin nää englantilaiset lehdet, joita kauppojen hyllyt pullistelee Suomessa.
Viime viikkoina pistelyinto on ollut aivan nollassa. Nuhalla (ja jonkin sortin kevätväsymyksellä?) lienee osuutta asiaan. Eilen aloitin kuitenkin pistelemään kirjekuorta laulut/runot-teemalla Yahoon
kirjekuorivaihtoon
. Itse menin ehdottamaan tuota aihetta ja sitten on ollut aivan älyttömän vaikea keksiä, että mitä pistelis... Argh. No, meni syteen tai saveen, jotain on valmistuttava.
BTW, Vuositaulu ei ole edistynyt yhtään - ei kiinnosta pistellä. Pariin Bent Creekin malliin ois langat ja kankaat valmiina, että niitä vois yritellä kun tuon kirjekuoren saa selvitettyä.
Osallistuin minäkin sitten
Salaiseen Ristipistoystävään
. Sain parin tiedot tänään ja heti tuli monta ideaa, mitä hänelle vois lähettää. :-D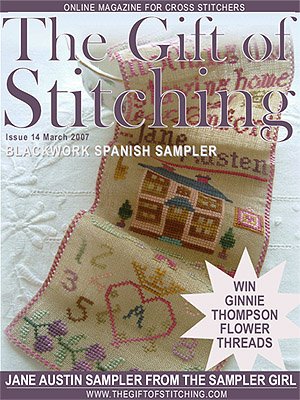 *'**
I ordered The Gift of Stitching magazine from Violarium couple of weeks ago. The magazine is published in the PDF-format - and it only costs 10 € per year, so not bad to my opinion. I've already downloaded couple magazines from the net and it seemed ok so far. Seems to be completely different than the brittish magazines you get in every store in Finland.

I have been stitching an mailart envelope in the theme of song/poems. I have had such a difficult time figuring out what to stitch - and I was the one that suggested this theme. Typical.

BTW, I haven't stitched the year 2007 picture at all, I just haven't felt like it. I have bought threads and fabrics for couple of Bent Creek designs so I think I'll have a go with them next.