Eilisilta meni kehystäessä kahta vuositaulua. Ne ovat olleet valmiina jo yli vuoden päivät ja lojuneet vain laatikossa odottamassa kehystysinspiraation iskemistä. No ei se kyllä iskenyt vieläkään, mutta oli pakko saada seinälle. Tavoitteenahan on ollut, että kaikki taulut olisivat seinällä viimeistään silloin kun ollaan vuosi asuttu uudessa kodissa. Ristipistotaulujen osalta alkaa näyttää jo ihan hyvältä, toisista tauluista en puhu vielä mitään… Toivotonta.
Aloitin eilen illalla pistelemään Ateljé Margarethan vuositaulua 2006. Tuo aukko seinässä näyttää niin orvolta, että pakko kait siihen on jotain saada. Mulla puuttuu siis vielä 1998 sekä jossain vaiheessa ilmestyvä 2007. Kaikki vuositaulut olen pistellyt aidalle. Pellava ois ollut näin jälkikäteen ajateltuna paljon kivempi, mutta minkäs teet.
***
I spent last night framing two cross stitch pictures. They have been finished for over a year and have been stored in a box just waiting for a sudden urge to frame them. Well, the urge never came, but I just had to get them framed and hang them on my wall. My goal has been to hang all of my pictures before we have lived in our house for a year. Now, the cross stitch situation is looking rather good at the moment, but I won't even mention other pictures and paintings... I know, I'm hopeless.
I started stitching a year 2006 cross stitch picture from Ateljé Margaretha. The gap on the wall looks so pathetic that I just have something to fill it in with. I am still missing years 1998 and 2007 (if there will be one). All of these pictures have been stitched on an aida fabric, when I really should have stitched them on the linen...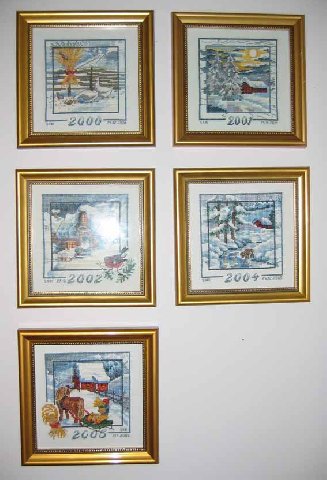 Mä en ymmärrä miten meidän postilaatikkoon tulee vaikka minkälaista postia. Aivan omituista. Tällaiset löytyi postilaatikosta tänään. Ja minähän en tunnusta yhtään mitään.
***
I just don't understand how this stuff keeps on appearing in our mailbox. Weird. This is what I found today. What? I am not going to confess anything.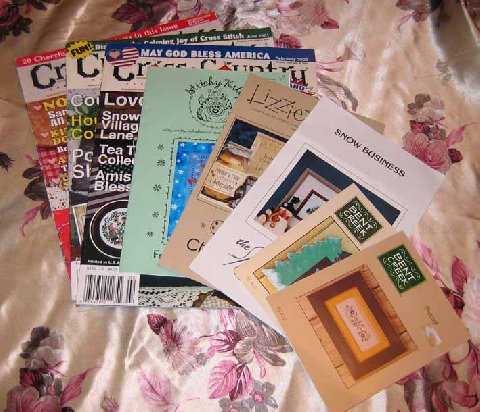 Kauan kaivattu lankapakkaus Victoria Samplerin Jingle bells christmas farmiinkin tuli tänään, aikaa kului noin 2 kk tilauksesta. Tosin ei ollut Stitching Bits & Bobsin vika, vaan eivät olleet saaneet valmistajalta kaikkia lankoja. Se täytyy kyllä sanoa positiivista, että SB&B:lla on nettisivuillaan kätevä linkki, josta voi seurata tilauksen lähetystä. Ja sähköpostikyselyihin vastaavat todella nopeasti. (Ja toi Noran pokkarihan on vain vertauksena tuolle lankapaketin koolle. ;-D )
***
Long awaited fiber pack for the Victoria Sampler's Jingle bells christmas farm arrived today, it only took about 2 months after the order... Well, I have to say that Stitching Bits & Bobs aren't to be blamed for, apparently they didn't receive all of the fibers from the manufacturer. But I do have to say a positive thing about SB&B. They do have a neat link on their website where you can follow your order. And they do reply to your emails fast. (And Nora's book is only there to compare the size of the fiber pack.)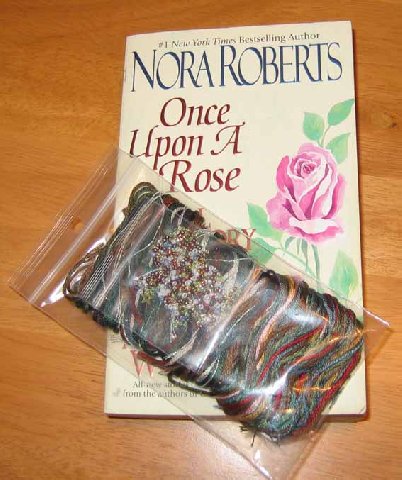 Muuten elämä on ollut hiljaiseloa pakkasen keskellä (-27 C tällä hetkellä). Onneksi telkusta tulee hyviä ohjelmia, mm. Taisteluplaneetta Galactica, Amazing Race, Greyn anatomia, House, Lost, Täydelliset naiset, Deadwood jne., joita on mukava katella digiboxilta silloin kun sohvalle lysähtää. Ja kohta puoliin alkaa Big Love ja Selviytyjät.
Ps. Olen löytänyt unelmieni talon. Kuva löytyy täältä. Lottovoitto ois siis tervetullut.
***
Other wise life has been quite slow and quiet in the middle of the freezing weather (-27,7 C at the moment). Luckily we have good tv programs (Battlestar Galactica, Amazing Race, Grey's Anatomy, House, Lost, Desperate Housewifes, Deadwood etc.) that I like to watch while I'm slouching on the couch. And Big Love and Survivors (can't remember which one) will air soon.
PS. I found my dream house. You can see the picture here. Winning a lottery would be a nice surprise.