Unohtui tuossa edellisessä postauksessa sanoa, että aloitin uuden pienen ristipistotyön. Mutta sekin on sarjassamme "suuri salaisuus", koska tulee immeiselle, joka vierailee täällä blogissa. Kuvia sitten myöhemmin.

Tällä mallilla on Le Bonheur des Dames. Puiset kapustat on kiinnittämättä, muuten on valmis. Kehystän tän varmaan ite jossain vaiheessa, täällä big cityssä kun on aika kalliita noi kehystämöt...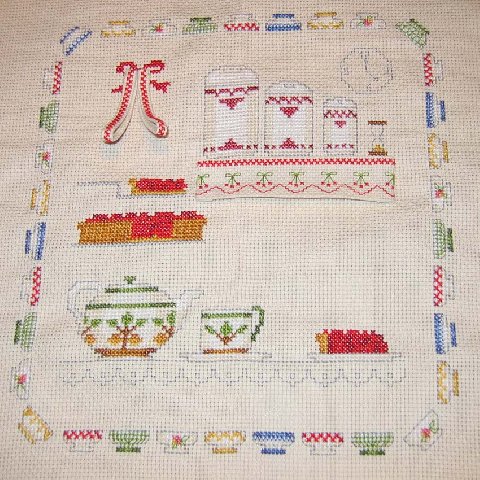 ***

I forgot to mention in my previous post, that I have started a new small cross stitch peace. But it is also one of the secret ones, because it is for a person who visits my blog. So pictures later.

And here's the latest update on Le Bonheur des Dames. The wooden ladles are yet to attach, but otherwise the design is finished. I will probably frame this myself some day, because the framers around here are quite expensive....