Olin eilen illalla ensimmäistä kertaa OUPS:n (oululaiset ristipistoilijat) tapaamisessa ja oli kyllä todella mukava ilta! Kiva huomata, että on toisiakin yhtä pahasti ristipistoihin hullaantuneita kuin minä. Vaikka omille kavereille onkin mukavaa välillä vuodattaa ristipistohulluttaan (ja saada vastaukseksi silmien pyöritystä), niin kyllä se tuo yhtä hurahtaneiden seura kuitenkin parasta, kun päättää paapattaa ristipistoista. :-D Kiitokset vielä Lennulle emännöinnistä ja myös toisille mukavasta seurasta!
Tokihan siellä tapaamisessa tarttui mukaan jotain mukavaa. Lennuhan pitää Violariumia ja minä jo etukäteen netistä katsastin pellavakangasvalikoimaa. Tällaiset pikkuiset kangaspalat tarttuivat käteen, oli siinä tosin aidaakin mukana.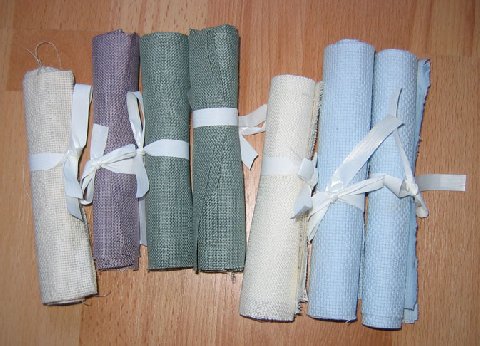 OUPS:n meetingissä joku meni kehumaan Googlen Readeria. Ja minä hulluhan illalla lisäilin omille tunnuksille (mulla kun on jo se Gmailin posti) tuonne Readeriin kaikki blogit, joita seurailen, mm. Marian ja Tuulian. Ja hertsyykkeri, tuo Readerihan toimii! Ihastuin kertakäytöllä! Ja teille, jotka ette tiedä mikä kyseessä on: periaatteena tuossa Readerissa on se, että se hakee sun valitsemien blogien/nettisivujen päivityksiä, ja listaa valmiiksi ne, joissa on jotain uutta. Eli säästää aikaa aivan mielettömästi, kun ei tartte jokaista blogia käydä erikseen tarkistamassa!

Ristipistotyö on edistynyt jonkin verran. Tässä tilannekatsaus tältä päivältä. Tavallisestihan mä teen nuo jälkipistot aivan viimeisenä, mutta tämä on ollut jotenkin kivempi tehdä siten, että tekee jälkipistot aina kun on yksi pikku osio valmiina. Tuo jälkipistojen langan väri mulla vähän ihmetyttää. Mallikuvassa sen väri on huomattavasti tummempi kuin meikäläisellä. En tiedä olisko pakettiin tullut väärän väriset langat vai mikä, mutta mulla on kyllä paljon hailakammat värit. Täytynee tehdä työ valmiiksi ja mietiskellä sitten, josko tekis vaikka tuplat päälle samalla langalla, että näyttäis vähän tummemmalta.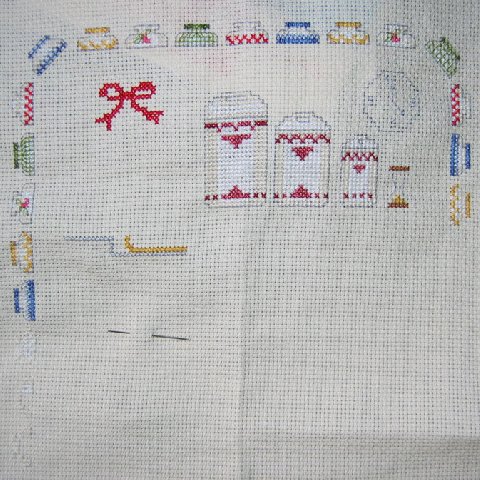 Mulle muistui muuten mieleen yks sanonta tuosta siivoamisesta, joka on meillä, btw, jäänyt viime aikoina aika vähälle. Minusta tää on aika loistava.

If you're going to write on the dust, please don't date it.

Tänään on ollut oikeastaan ihan kiva päivä. Posti toi taas Huutonet-voittoja… Mulla on joku ihmeen hamstrauskausi menossa ilmeisesti. No, pitäähän sitä olla kangasta kun menin niitä mallejakin tilaamaan yhdessä Marikan kanssa. ;-D